CBS News Anchor Russ Mitchell to Accept Missouri Honor Medal, Host Master Class
Columbia, Mo. (March 30, 2009) — Russ Mitchell, BJ '82, a CBS News anchor, will accept the Missouri Honor Medal for Distinguished Service in Journalism on Friday, April 3, at the Missouri School of Journalism in Columbia. The medal, first given in 1930, is one of journalism's most prestigious awards.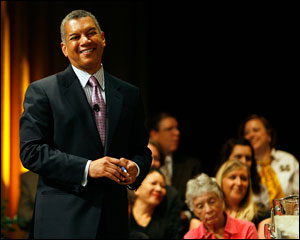 Mitchell will present a master class, "The New Real World of TV News" prior to the ceremony. It will be streamed live from 11 to 11:50 a.m., as he speaks to students in the Fred W. Smith Forum at the Reynolds Journalism Institute (RJI). His talk also will be featured on the plasma screens inside RJI.
Mitchell will receive his medal during a luncheon at the School. His citation reads "in recognition of his exemplary professionalism as a television reporter and anchor and of his unselfish commitment to mentor young leaders." Mitchell was unable to come to campus when he was awarded the medal in 2007.
Mitchell has served as the anchor of CBS News' "The Early Show" since December 2006. He was named the anchor of the "CBS Evening News with Russ Mitchell," (Sunday edition) in April 2006, having been a correspondent for "CBS News Sunday Morning" since July 2002.
Mitchell anchored "The Saturday Early Show" from 1997-2007. He also served as a primary anchor for the "CBS Evening News," (Saturday edition) since November 1999. As a CBS News correspondent, Mitchell contributed to numerous broadcasts, including the "CBS Evening News" in Washington, D.C., and then in New York, as well as "48 Hours."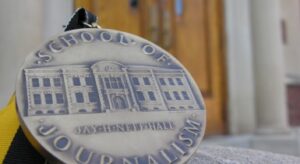 In his reports, Mitchell has covered the devastation and aftermath of Hurricane Frances in 2004, the Columbia Shuttle disaster along with Dan Rather, and the 1996 presidential race. From 1995-97, he anchored the late-night "CBS Sunday Night News." Mitchell also anchored a CBS News primetime special, featuring the "Class of 2000" project.
Mitchell was a correspondent for CBS News' "Eye to Eye" from 1993-95, reporting from Russia, Chile, Indonesia and France, in addition to covering the 1994 U.S. military operation in Haiti. Mitchell joined CBS News in 1992 and served as the co-anchor for "Up To the Minute."
Before joining CBS News, he was a weekend anchor and reporter for KMOV-TV, after having worked at KTVI-TV in St. Louis, WFAA-TV in Dallas and KMBC-TV in Kansas City.
Mitchell has received numerous professional honors, including a 2007 Emmy Award for a story titled "Our Memory" for CBS News Sunday Morning; a 2001 Sigma Delta Chi Award for spot-news coverage of the Elian Gonzalez case; a 1997 Emmy Award for coverage of the crash of TWA Flight 800; and a 1995 National Association of Black Journalists News Award. He also was the recipient of two Emmy Awards from the St. Louis Chapter of the National Academy of Television Arts and Sciences and a 1989 Best Reporter honor from the Missouri UPI.
Updated: May 1, 2020
Related Stories
Expand All
Collapse All
---