AdZou Challenge brings high school students from every corner of state to Missouri School of Journalism for marketing competition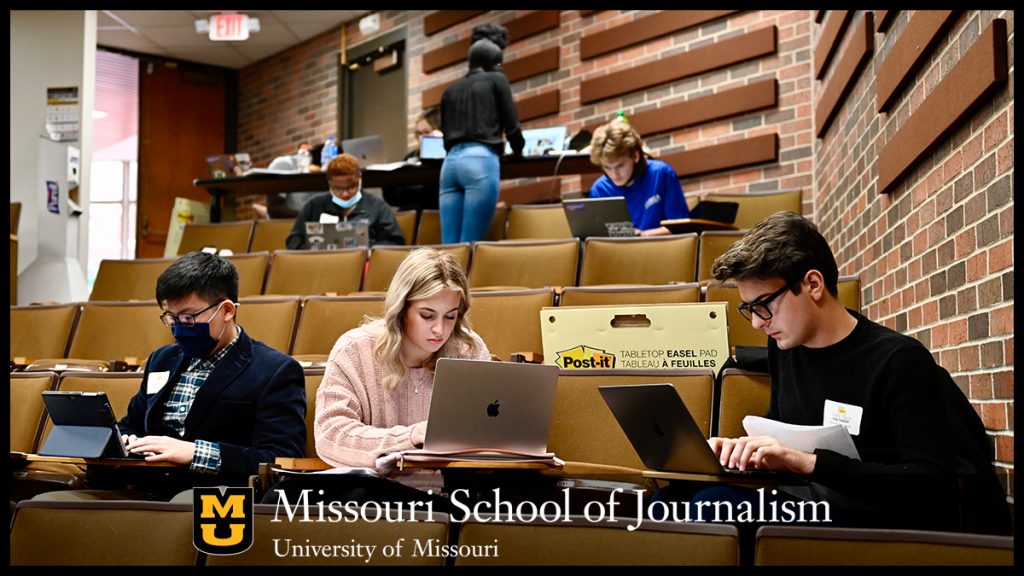 Columbia, Mo. (Dec. 13, 2021) — High school students from across Missouri gathered at the Missouri School of Journalism Tuesday, Dec. 7 to compete in the inaugural AdZou Challenge, in which teams of five from 15 Missouri high schools vied to create the best advertising campaign for a hypothetical new Samsung phone. The competition was sponsored by the School of Journalism's strategic communication department and led by Professor Jon Stemmle as a new way to introduce high school students to the opportunities and hands-on education style available through the program.
Students were briefed on the scenario — Samsung is releasing a new smartphone, the "Galaxy Pro," and wants to get the word out about the phone ahead of an upcoming trade showcase — and were then given 80 minutes to create a comprehensive plan for an ad campaign. The teams were judged on the creativity of their ideas, their understanding of the product's target audience, and the strategic tactics they proposed to reach that audience, as well as the overall quality of their presentations.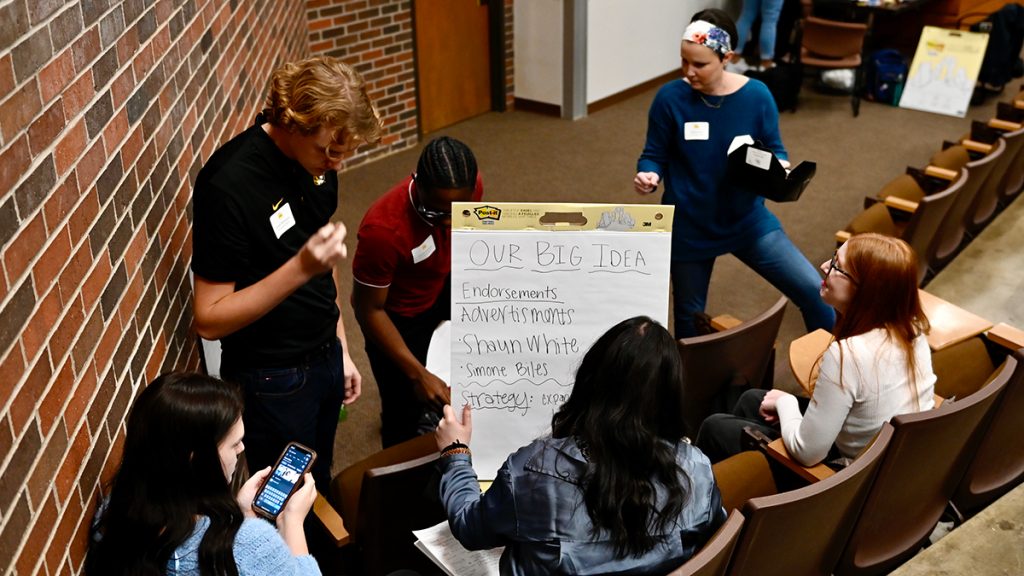 A group of public relations and marketing professionals from Kansas City and St. Louis judged the presentations, posing as Samsung executives for the purposes of the competition's scenario. The opportunity for students to receive immediate feedback on their work from industry experts was suggestive of the School's emphasis on real-world training and experiential education as part of the Missouri Method, a point Stemmle and Kurpius made sure to drive home to students.
"If you learn anything about the Missouri School of Journalism today, learn that a competition is never just a competition," said David Kurpius, dean of the School of Journalism, in his opening remarks. "After all, winning takes more than a competitive spirit; it takes a willingness to always be learning. That's why our school emphasizes a cross-platform education."
The dean's sentiment was not lost on Halley Kim, a senior at Sikeston High School — a four-hour drive from Columbia — who hopes to study psychology when she enters college. Like all the competitors, Kim is enrolled in a class at her high school sponsored by DECA, an organization that helps high school and college students prepare for their careers through courses and events that focus on promoting skills in entrepreneurship, marketing, management, and other leadership skill sets.
"I like the people engagement aspect of marketing," said Kim, "and I really enjoy [the DECA class]. I'm looking forward to seeing what other schools come up with and learning more than I knew coming in."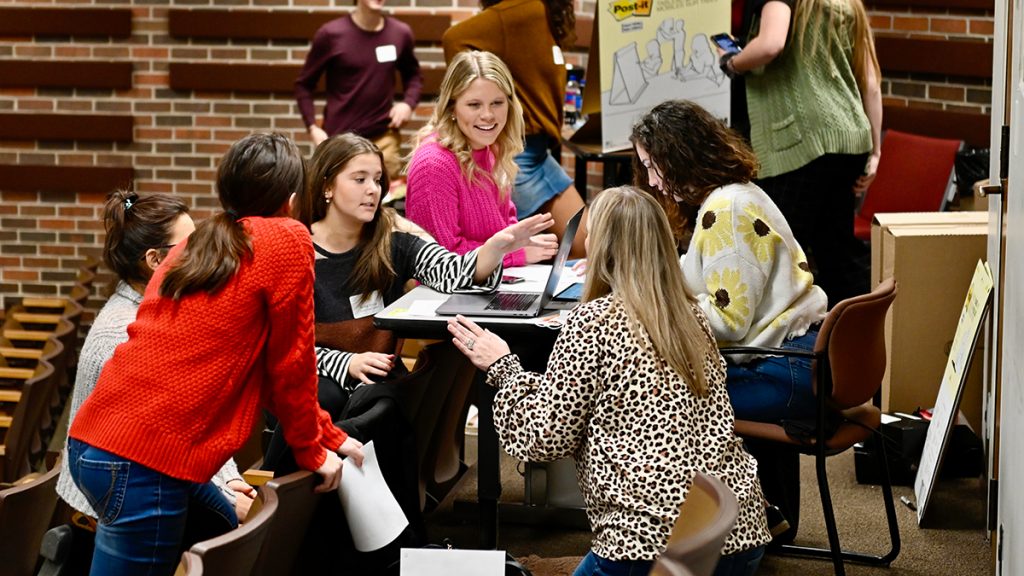 Kim's team from Sikeston went up against teams from around Missouri, including a team from Hickman High School. Though the teams were accompanied by their high school instructors, senior India Bratrud — who also serves as vice president of membership for Missouri DECA — stood out as the default leader of Hickman's group.
Bratrud sported an official DECA patch on her blazer and seemed at home in the competitive atmosphere — having endured a year of remote DECA events amid the COVID-19 pandemic, she was eager to participate in the in-person event.
"Part of the whole fun of DECA is getting to network with a bunch of people across the state," she said, adding, "I've missed competing."
Ultimately, the Hickman team came away with two honors: an overall victory in the competition, and a prize for "Best Tactics." Prizes were also awarded to teams for research, creativity, presentation, and best individual presenters, and were spread among schools representing every cardinal direction in the state: Smith-Cotton High School of Sedalia to the west; Morgan County High School in Stover, Mo., in the south; Webster Groves High School from the east; and Moberly High School to the north.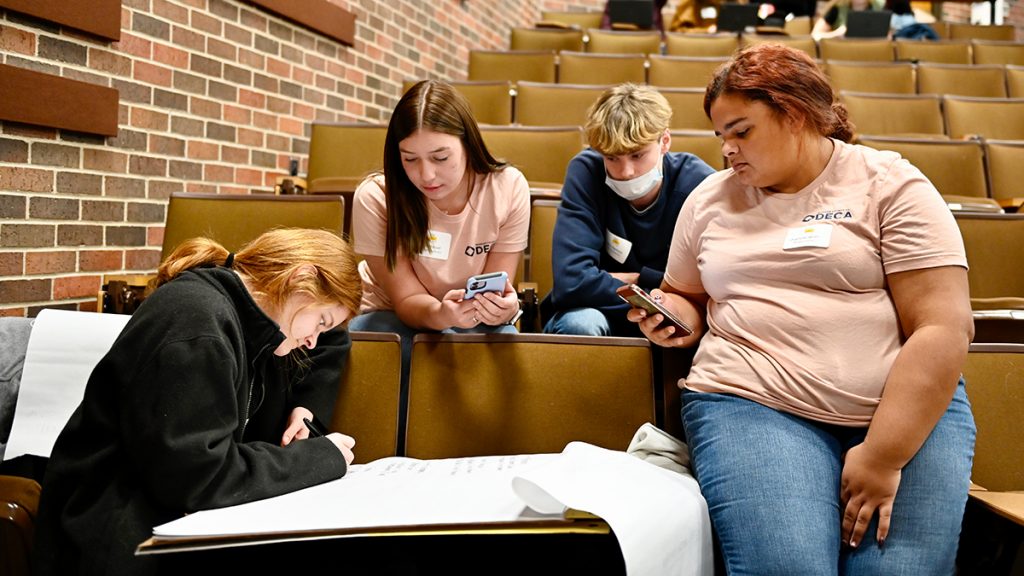 "I think it did a great job showing how great of a program Mizzou Strategic Communication really is," said Scott Fuenfhausen, the Hickman team's DECA instructor, of the AdZou Challenge. "It's a wonderful feeling when a lot of planning and work produces great results."
For Stemmle, the competition was a resounding success both for the students and the School's strategic communications program.
"The goal with this event was to provide students with a chance for live, in-person competition before their big DECA season begins in the spring," Stemmle said. "All of the students did an amazing job to come up with campaigns, many complete with slide decks and even videos, in such a short period of time. I think the students and instructors also got a chance to see what was possible here at Mizzou in the field of strategic communication."
Stemmle plans to follow up the competition with another next year, hoping to cement the event as a Mizzou tradition. The full list of winners is below:
Overall team champion
Hickman High School
Best individual presenters
Grace Kertz, Moberly High School
Karson Weymuth, Smith-Cotton High School
Best research
Webster Groves High School
Best tactics
Hickman High School
Best presentation
Smith-Cotton High School
Best creative
Morgan County High School
Updated: December 14, 2021
Related Stories
Expand All
Collapse All
---