Strategic communication student at Missouri School of Journalism lands string of photo exhibitions on campus and (far) beyond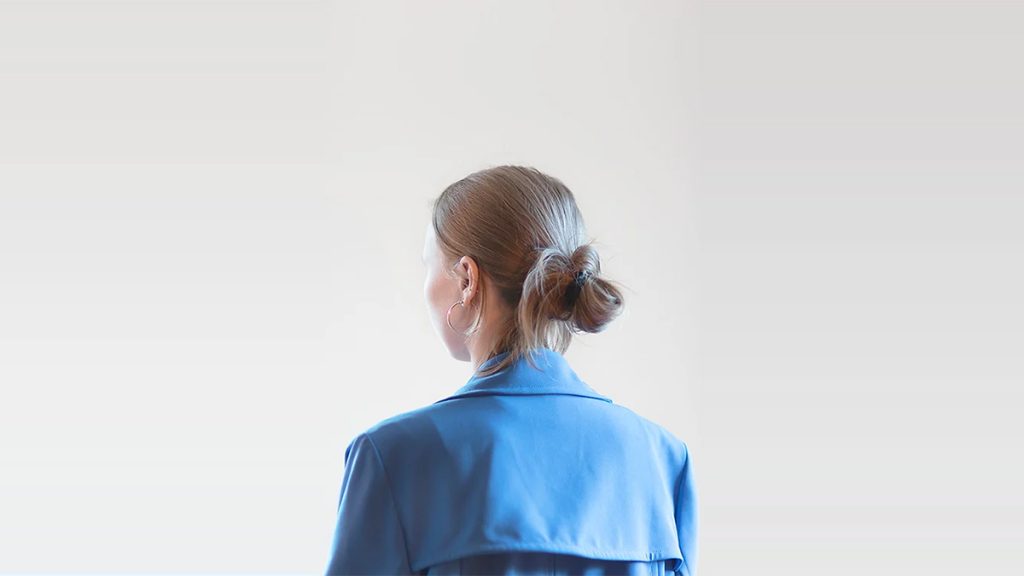 A photo by Samantha Novak that will be presented in Personality: Contemporary Portraiture, a curated international photography exhibition to be held in Budapest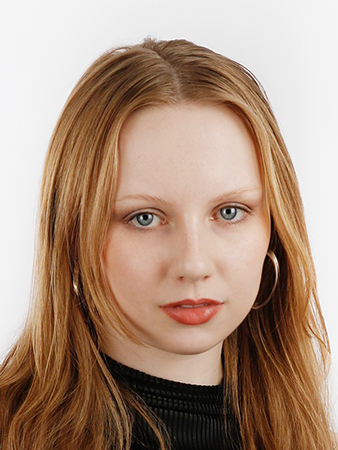 COLUMBIA, Mo. (April 6, 2023) — Samantha Novak, a senior at the Missouri School of Journalism, is quickly becoming a fixture at campus photography exhibitions — in fact, there is hardly a local gallery that hasn't featured her work.
In February, her portraiture series was featured at the Bingham Gallery, Josephine Gallery and the Missouri Theater, the latter as part of the Chancellor's Arts Showcase. This month, she will check another Columbia gallery off her list when her work is displayed at the Columbia Art League during the annual Visual Art and Design Showcase, which presents art from 50 of Mizzou's most talented undergraduate visual artists, graphic designers and filmmakers.
You'd be forgiven for assuming the showcase at Columbia Art League will cap off Novak's recent run of success, but you'd be forgetting about her inclusion in an international exhibition in Budapest, where her work will hang alongside portraiture from professional photographers like Hannah Altman at PH21 Gallery starting April 6.
"It's a little surreal," Novak said. "I'm so desensitized to my artwork — I spent so long working on it and am so critical of my own work that I have no objectivity as to whether or not something is good enough to be in a show. It was really bizarre to have someone from Hungary emailing me to say, 'we want to show your work, and your work will be for sale during the show.'"
Despite the wave of attention her work is receiving, photography isn't the only outlet through which Novak expresses her passion for visual art; in fact, she describes photography as a long-term hobby she hopes to pursue alongside her career aspirations in the world of strategic communication.
To that end, Novak is finishing up her second semester at MOJO Ad, the School of Journalism's student-staffed ad agency covering the youth and young adult market, where she handles art direction.
"Sam is a capable designer, and she's savvy in her ability to adapt what she captures through her lens, easily adapting from strategic commercial work to the more expressive style found in her fine art-oriented work," said Frank Corridori, creative director at MOJO Ad and an associate professor. "The work that Sam has done for us at MOJO Ad has been some of the best photography that we've had as part of our original campaign work."
Novak hopes to translate her wide array of experiences with visual media into a career that allows her to use all her talents.
It's a little surreal. I'm so desensitized to my artwork — I spent so long working on it and am so critical of my own work that I have no objectivity as to whether or not something is good enough to be in a show.

Samantha Novak
"I like working closely with art and around artists, so whether it's art as in fashion or working with photographers, my main career goal is art direction," Novak said. "There are a lot of practical applications for the skills I've learned as a photographer — if you're working on a campaign, how do you communicate an entire story or idea or feeling in a very short and quick sort of way? That creative muscle you build in photography by telling a story in a single frame is very applicable."
Novak has been practicing photography since the age of 14, but the work displayed in each of the recent and upcoming exhibitions has come from a single series of portraits she developed during her time at Mizzou. A subset of these portraits depict Novak from behind in what she calls "reverse self portraits," and it's one of these novel takes on the concept of a self portrait that was selected for inclusion in the international exhibition.
While the portrait series was initially created for a beginning photography course in the College of Arts and Science's School of Visual Studies, Novak has found inspiration and mentorship in School of Journalism faculty who have showed her how to bring her whole creative self to her work.
"All of the professors in MOJO — Frank Corridori, Brad Best, Jon Stemmle and Jamie Flink — have all been really great at encouraging all of us at MOJO to bring in our specific interests and abilities," Novak said. "I think it's really cool that they encourage us to really bring in things that we are passionate about, even stuff that might be outside of what we do day-to-day at the J-School."
In particular, she noted that Corridori has introduced her to a structured approach to creative work, one that allows her to be productive consistently with fewer of the fitful starts and stops that can sometimes plague an artist's workflow.
"Some creatives are very spontaneous and intuitive — they sort of create when they feel like creating," Novak said. "But in traditional advertising, for example, you don't really have the freedom to do that. You have deadlines and times when you need to produce something. I feel like Frank does a really good job of helping people take the spontaneous, free-flowing creativity that they have and learn to channel it into a process, a set of steps they can take so they're not just sitting there with a bunch of random thoughts in their heads."
Novak, who also works as a multimedia intern at the University of Missouri News Bureau and as a lab monitor at the School of Visual Studies' photo department, will graduate in May. In Corridori's view, the best is yet to come.
"I think with Sam's vision, passion, curiosity and versatility, she'll be a creative talent to keep an eye on in the next few years," Corridori said.
Updated: April 6, 2023
Related Stories
Expand All
Collapse All
---