Argentine Journalist Named First Tina Hills Fellow at the Missouri School of Journalism
Columbia, Mo. (July 21, 2003) — Marina Walker, an award-winning journalist from Mendoza, Argentina, has been named the Missouri School of Journalism's first Tina Hills Fellow for Latin American Journalists.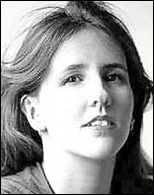 Walker, formerly of Los Andes and the Philadelphia Inquirer, will work as a part-time instructor at Adelante while completing coursework for a master's degree. Adelante is a monthly newsmagazine published by the school in both Spanish and English for the growing Spanish-speaking population of Central Missouri. The Tina Hills Fellowship for Latin American Journalists will provide her tuition and a stipend of $5,000 a year.
Tina Hills is the former publisher of the Puerto Rican newspaper, El Mundo, and president of its parent company. Mrs. Hills is the widow of Lee Hills, a former chief executive officer of Knight-Ridder newspapers. Both were presidents of the Inter-American Press Association.
The Tina Hills Fellowship is part of a long-term program to expand relations between the Missouri School of Journalism and the news business in Latin America. Missouri's journalism program has a strong international presence. The school has formal collaborative relationships with more than a dozen educational programs in nine countries and informal relationships with more than a dozen.
The fellowship announcement in January 2003 drew more than 70 inquiries from 17 countries. Walker, a former Alfred Friendly Fellow, was the school's top choice. Her strong background in investigative and social issues reporting, combined with her commitment to journalism education, will make her a valuable member of the newspaper staff, said Adelante Managing Editor Tracy Barnett. She will be working as an assistant editor, senior writer and writing coach during her two-year stay in Missouri.
"We are really enthusiastic about having someone of Marina's caliber working with our staff," said Barnett. "She brings a wealth of experience to share with our students and our readers, and we're very grateful for this opportunity."
Besides earning the prestigious Alfred Friendly Fellowship in 2002, which gained her a six-month fellowship at the Philadelphia Inquirer, Walker has won several other honors. She won the National Prize Premio Nacional al Periodismo de Bien Público (Journalism for the Common Good), sponsored by the ADEPA (Argentine Association of Journalism) for "Vidas Solidarias" (Lives in Solidarity), the special section she created in Los Andes daily newspaper. She also won the Argentine Upcoming Journalism award in 1998 and was a finalist for the Argentine National Health Journalism award in 1999.
Her academic experience includes a year and a half at the Centro de Estudios Internacionales (International Studies Center), an academic center at the Universidad Nacional de Cuyo, where she serves as the coordinator of the Journalism Department.
Updated: March 2, 2020
Related Stories
Expand All
Collapse All
---