Wanta to Serve as 2007 President of National Journalism Organization
Columbia, Mo. (May 8, 2006) — Wayne Wanta will be the 2007 president of the Association for Education in Journalism and Mass Communication, the largest professional organization of journalism educators in the world with more than 3,500 members. He will assume his term this August when the organization holds its annual meeting in San Francisco.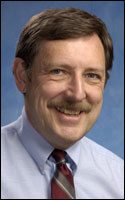 Wanta, a Missouri School of Journalism professor and executive director of the Center for the Digital Globe, will be the second person from Missouri to hold this prestigious position. Former dean Earl English served in 1953.
Jennifer McGill, AEJMC executive director, said Wanta's experience and dedication were key reasons he was selected to lead the organization in 2007.
"He knows AEJMC and has a strong connection to our members across the globe," McGill said. "His experience attending international conferences will be most valuable as we work out the details of a World Journalism Education Congress we are planning in the summer of 2007."
For Wanta, who currently serves as president-elect of AEJMC, becoming the head of the organization is something he always saw himself doing.
"When I was getting my PhD from the University of Texas, we used to joke that I would become president of AEJMC," Wanta said. Before joining the Missouri Journalism faculty, Wanta taught at the University of Florida, University of Oregon and Southern Illinois University.
Wanta is an active researcher in political communication and media effects. Much of his research examines the agenda-setting function of the news media – how news coverage of issues influences the public's perceptions of those issues. Wanta also has conducted research in visual communication, sports journalism, Internet use and effects and negative political advertising. Among his research accomplishments are one scholarly book, eight book chapters, more than 40 journal articles and more than 80 conference papers.
Wanta has been part of AEJMC for 20 years, attending every convention during that time except one. He was first elected to the Teaching Standards committee and served as the chair of that committee for two years.
In 1995, he was awarded the Krieghbaum Under-40 award from AEJMC as the top member of the organization who is under 40 years of age.
Wanta said his research experience and dedication to his previous committee are the reasons he was selected to lead the organization in 2007.
"I have presented a lot of papers at several conventions over the years, and I know everyone at the home office in Columbia, S.C., on a first-name basis," he said.
During his tenure, Wanta will address a potential shortage of future administrators in the field and the explosion of graduate education, which may have been preemptive by some schools.
"There was a rush by some universities to jump on the band wagon and offer doctoral degrees," explained Wanta.
Wanta has had a long and prestigious career in journalism. He received his doctoral and master's degrees from the University of Texas and a bachelor of arts degree from the University of Wisconsin. Before entering the field of research and education, Wanta worked eight years for several newspapers including The Dallas (Texas) Times Herald, Austin (Texas) American-Statesman, Albuquerque (N.M.) Journal, Charleston (S.C.) Post Courier and the Wisconsin State Journal.
Updated: April 9, 2020
Related Stories
Expand All
Collapse All
---