Public Health Meetings Help Communities During Epidemics, MU Study Indicates
By Nathan Hurst
MU News Bureau
Columbia, Mo. (March 19, 2010) — The H1N1 outbreak last fall created a public outcry for more information on the risks and treatment of the quickly spreading disease. Although public health institutions across the country were holding meetings, little was known about their impact on the general public. Now, University of Missouri researchers have found evidence that public health meetings increase knowledge and reduce perceptions of risk and can be key players in helping inform people when communities face public health epidemics like H1N1.
"These results indicate the necessity for public health institutions to formulate strategies to respond to rumors."

María E. Len-Ríos
"During the time of our study, H1N1 was considered a potentially serious public health threat, so it was important that public health departments communicate with the public about minimizing risks of contracting and spreading the disease," said María E. Len-Ríos, assistant professor of strategic communication at the Missouri School of Journalism. "Our findings indicate that these meetings present significant opportunities for dispelling rumors, accurately communicating risk and quelling unrealistic fears."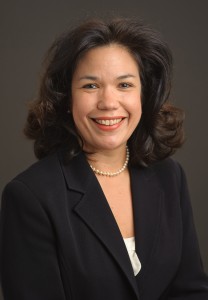 Len-Ríos, along with MU graduate student Bokyung Kim, Emily Gresham Wherle, public information manager at the Northern Kentucky Health Department, and Steven Katkowsky, former district director of health at the Northern Kentucky Health Department, studied six public health meetings on H1N1 between Aug. 31 and Oct. 1. The researchers studied questions asked during the meetings and the responses to a questionnaire given after the meetings on risk perceptions.
The questions participants most often asked were about preventing H1N1, 74 percent of which were about the H1N1 vaccine. Also, the survey showed the majority of participants felt the same level of risk after the meetings but felt they knew more about H1N1 and were confident they would know what to do if they contracted the flu. Despite the health department's encouragement to get vaccinated, only slightly more than half of the survey participants indicated that they would get the H1N1 vaccine, with nearly one-third indicating they were unsure if they would.
"There were many rumors surrounding the safety of the vaccine, and the lack of the public's willingness to get preventative vaccines poses a public health problem," Len-Ríos said. "These results indicate the necessity for public health institutions to formulate strategies to respond to rumors. Also, many questions were posed at the meetings about what institutions should do to reduce risk. This shows that it is beneficial for public relations professionals at other institutions to participate in public meetings about public health epidemics for the purposes of environmental scanning and strategic management."
Len-Ríos' research recently won the Public Relations Society of America's Health Academy/Quinnipiac University paper competition. She and her coauthors will present her research at the PRSA's annual conference in April. Katkowsky passed away earlier this month.
Updated: May 7, 2020
Related Stories
Expand All
Collapse All
---