Anchorage (Alaska) Daily News Reporter Wins Darrell Sifford Memorial Prize in Journalism
Julia O'Malley's Series Chronicles a Woman's Struggle to Overcome Heroin Addiction
Columbia, Mo. (June 7, 2011) — An award-winning reporter and columnist at the Anchorage (Alaska) Daily News is the 2011 winner of the Darrell Sifford Memorial Prize in Journalism, an award administered by the Missouri School of Journalism.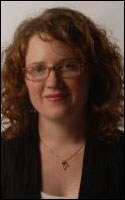 The annual award and $2,000 prize recognizes newspaper writing that illuminates the daily lives of ordinary people, their successes and difficulties.
The prize is named in honor of Darrell Sifford, a 1953 graduate of the Missouri School of Journalism, who died in a tragic accident in 1992. He was an award-winning columnist at the Charlotte Observer and later the Philadelphia Inquirer.
Julia O'Malley's series vividly chronicles 27-year-old Kristin Alexander's struggle to overcome a heroin addiction. In the process, she reveals the underfunded and wholly inadequate drug treatment programs in Anchorage. It's easy to understand why the newspaper's subscribers responded passionately to the series, and then remain hopeful this kind of deeply reported narrative journalism could actually move the state legislature to take action.
The judges wrote about O'Malley's entry:
O'Malley introduces Alexander entering a courtroom, "handcuffed to a line of worn-out looking female prisoners, and looking barely beyond her teens" with milky skin and red hair pulled into pigtails. She looked like the girl you might see handing lattes out the window of a coffee cart." Except she wasn't a barista, she was in jail, arrested for soliciting an undercover cop while on bail for shoplifting and drug possession. A subsequent search resulted in another felony charge for drug possession. Her five-year addiction sent her through a revolving door with dizzying spins into unemployment, homelessness, poverty, prostitution, occasional sobriety, pregnancy, illness and depression.
In the courtroom, the columnist sat next to Alexander's mother, Kathleen Stevens, a psychiatric nurse from Chuglak. The story carefully weaves the mother/daughter relationship through the traumas of drug addiction. Like all mental and physical assaults to the human body, heroin addiction happens to a family as well as the afflicted relative. Alexander's mother told O'Malley she didn't want her daughter's sentence suspended.
"What kind of mom prays for this?" she asked me. "For her kid to stay in prison?" (There must have been miles of interview transcripts before O'Malley came to that line of dialogue. She's especially skillful in locating short quotations that deliver each character's voice and meaning.)
The story required uncountable hours to report, a particularly relevant examination of how social issues affect daily life everywhere. Heroin addiction is on the rise in middle-class Alaska, where treatment programs already have waiting lists that postpone admission for months or years. (Several Sifford entries this year examined the number of lives lost in the bureaucratic nightmare of health care today.) Stevens serves as the reader's eyes and ears, offering both hope and despair with utter credibility. No one imagines being the mother of a drug addict. Yet every addict has had one. O'Malley presents an unforgettable story and regrettable reality, raises probing questions and imagined solutions, and pushes her story of "what is" into the inspiration of "what if?"
Julia O'Malley writes a general interest column about life and politics in Anchorage and around Alaska. She grew up in Anchorage and has worked at the ADN on and off as a columnist and reporter since 1996. She returned to ADN full time as a reporter in 2005. As a reporter, she covered the court system and wrote extensively about life in Anchorage, including big changes in the city's ethnic and minority communities. In 2008, she won the Scripps-Howard Foundation's Ernie Pyle award for the best human-interest writing in America. She has also written for the Oregonian, the Juneau Empire and the Anchorage Press.
Updated: June 2, 2020
Related Stories
Expand All
Collapse All
---