Media Impact on Breast Cancer Awareness, Anxiety Different for Caucasian and African-American Women, MU Researcher Finds
By Jessica Pollard
MU News Bureau
Columbia, Mo. (April 28, 2005) — According to the Centers for Disease Control and Prevention, breast cancer is the most commonly diagnosed cancer among U.S. women. From the disease prevention perspective, there is a need for accurate and credible information to be effectively communicated to women about breast cancer and breast cancer screening. A University of Missouri-Columbia researcher found that while the media plays a significant role in disseminating this information, African-American women experience greater anxiety and negative perceptions toward health information distributed by the media.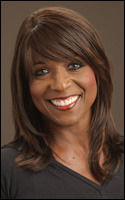 "It's important that journalists try to minimize possible and unnecessary fear or anxiety about breast cancer when covering the topic," said Cynthia Frisby, associate professor of advertising at the MU School of Journalism. "Developing a set of guidelines to follow when reporting on the issue will help ensure coverage is objective and balanced for viewers or readers."
Frisby examined 446 randomly selected women, 240 Caucasian and 206 African American, from 11 metropolitan areas, through telephone surveys. Using this data, Frisby looked at cancer anxiety and outside factors that related to it, such as knowledge of the disease and past personal experiences with cancer. The use of media sources of health information and their impact on individuals' perceptions and attitudes toward health-related issues also were taken into account.
Frisby found that African-American women were more responsive to health information on television and radio, and experienced more anxiety about the disease than Caucasian women. However, magazines produced fewer negative perceptions of breast cancer for African-American women.
Overall, African-American women were more influenced by breast cancer information in the media than Caucasian women, suggesting higher anxiety levels, Frisby said. Younger Caucasian women also reported feeling less anxious about breast cancer than their older counterparts. African-American participants showed no distinct differences in terms of age related to anxiety levels.
Frisby's study was funded by the MU Health Communication Research Center and the Centers for Disease Control and Prevention and the National Center for Chronic Disease Prevention and Health Promotion.
Updated: April 6, 2020
Related Stories
Expand All
Collapse All
---