Winners of the Darrell Sifford Memorial Prize in Journalism Announced
Lindy Washburn and Leslie Brody of The Record in New Jersey Win for "Living with Cancer" Series
Columbia, Mo. (Feb. 27, 2009) — Two reporters at The Record in Hackensack, N.J., are the latest winners of the acclaimed Darrell Sifford Memorial Prize in Journalism. In a series of stories titled "Living With Cancer," Lindy Washburn and Leslie Brody wrote about themselves, their loved ones and their community in articles that explored the medical and the emotional aspects of cancer.
The prize, administered by the Missouri School of Journalism, honors Darrell Sifford, BJ '53. Sifford's insightful and inspirational columns in The Philadelphia Inquirer touched readers in such an intimate way that his accidental death in 1992 hit thousands as if they had lost a close relative. Colleagues described Sifford as "a rarity in American journalism, a columnist with the heart of a poet." Readers started the fund to honor and encourage newspaper writing that depicts the personal struggles and triumphs that together make up the fabric of everyday lives. Washburn and Brody will share a $1,000 prize and will receive lead crystal vases.
In comments about Washburn and Brody's series, the judges noted: "Two reporters who happened to sit together in the newsroom were hit with cancer blows at the same time — one was diagnosed with breast cancer, and the second one's husband was diagnosed with one of the most aggressive cancers. Looking at it from both patient and caregiver perspectives, the two reporters teamed up to present a clear-eyed view of living with cancer."
The Sifford Prize is a bittersweet award for Brody whose husband died of pancreatic cancer on Dec. 15, 2008. She hopes that the "Living with Cancer" series, this recognition and news coverage of other high-profile patients — including the late professor Randy Pausch of "The Last Lecture," actor Patrick Swayze, and now Supreme Court Justice Ruth Bader Ginsburg — will lead to more research funding to fight one of the most lethal cancers. Only 5 percent of patients survive five years. Most die within a year of diagnosis.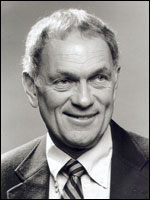 "I got more mail on that series than anything I've written in almost 25 years as a reporter," noted Brody. "Unfortunately, almost everyone has been touched by cancer. Many caregivers said they were thrilled to see stories on their struggles, because most coverage focuses on the trials of patients, the triumphs of survivors or searches for a cure. Many caregivers said the stories made them feel less alone and more valued; some said they were encouraged to find support groups or get help when they were overwhelmed. Other readers said the stories inspired them to lend a hand to families going through this ordeal.
Brody continued, "My favorite e-mail, though, came from a man who said the series 'gave me a better appreciation and understanding of the suffering that my lovely, caring wife has quietly endured while trying to keep up my spirits.' What caregivers truly need is to feel appreciated. Taking care of someone you love who is very ill is such a hard job."
In ways large and small, Washburn commented, the stories helped readers who are dealing personally with cancer to know that they are not alone.
"We were honest and open about details that usually go unspoken, and the response we received made it clear that this resonated with readers. For me, that meant writing about the emotional realities of a cancer diagnosis: how the manner in which you are given that news affects you; how difficult it is to make life-altering decisions about treatment while on such an emotional rollercoaster; and how to get yourself calmed down during the weeks-long lead-up to surgery."
Washburn said that providing resources and names of experts who could talk about the issues was key, and this kept the "Living with Cancer" series from being purely an exercise in self-revelation.
"We heard from so many readers that they had given the articles to people they knew in the same situation, and that this had helped them and encouraged them as they faced the same problems. It gave them ways to talk about difficult situations and brought some of the hard stuff out into the open, allowing those conversations with family members to get started," Washburn said.
Brody praised the support given to her and her husband by their employers and hopes that the "Living with Cancer" series will inspire companies to show humanity to employees facing serious medical crises.
"The Record gave me generous flexibility to adapt my 3-days-per-week work schedule around the ever-changing medical needs of my husband. My husband's company, Bloomberg News, gave him enormous flexibility, too, and welcomed whatever he could contribute," she noted.
Updated: April 30, 2020
Related Stories
Expand All
Collapse All
---