Missouri Journalism Professor Awarded 2009 Kemper Fellowship for Teaching Excellence
Jennifer Rowe Is One of Five MU Teachers to Be Recognized
Columbia, Mo. (April 8, 2009) — University of Missouri Chancellor Brady Deaton and Commerce Bank Chairman Jim Schatz today awarded one of the 2009 William T. Kemper Fellowships for Teaching Excellence to Jennifer (Moeller) Rowe, associate professor in the MU School of Journalism.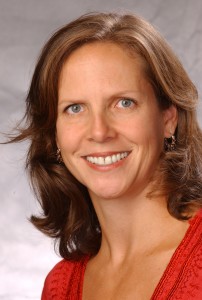 Deaton, Schatz and a group of professors, administrators and staff paid a surprise visit to Rowe's classroom to honor her with the Fellowship, which includes a $10,000 award. Fellowships are awarded to five outstanding teachers at the University of Missouri each year.
The William T. Kemper Fellowships for Teaching Excellence were established in 1991 with a $500,000 gift. Kemper, a 1926 MU graduate, was a well-known civic leader in Kansas City until his death in 1989. His 52-year career in banking included top positions at banks in Missouri, Kansas and Oklahoma. Commerce Bank manages the trust fund.
Jennifer (Moeller) Rowe has been a member of the MU faculty since 1998 and is committed to helping students in the Missouri School of Journalism develop professional skills. Rowe uses a combination of energy and expertise to engage students in the classroom and the School's magazine journalism laboratory. She teaches several courses, including magazine editing, and is the editorial director of Vox magazine. She serves on the Missouri Association of Publications Board of Directors.
"Professor Rowe is fantastic; she is a grammar guru and truly an asset to the Missouri School of Journalism," said a former student in Rowe's magazine editing class. "She teaches with passion and is eager to see her students succeed."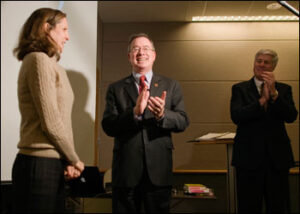 In 2007 and 2008, Rowe was named a Mizzou '39 Faculty Honoree and, in 2004, she received the MU Provost's Outstanding Junior Faculty Teaching Award. While serving as editorial director of Vox magazine, Rowe has inspired students to produce prize-winning magazine stories. In 2002, the magazine won first place in the category of single-issue general excellence of the Association for Education in Journalism and Mass Communications student contest.
Rowe is described as being a principled, powerful and compassionate teacher. Rowe takes into consideration the interests and needs of her students when developing her curriculum. Students consistently recall her classes as the two most crucial courses in preparing them for their editing careers.
"The guidance, enthusiasm and knowledge that Professor Rowe bestows upon her students are why the magazine industry looks to the MU Journalism School to fill vacant positions," said Ryan Wallace, MA '05, former MU student and writer for Southern Living magazine. "We, her students, leave the program with a skill set that is unmatched by graduates of other schools because we have been challenged and inspired by Professor Rowe's love of words and her passion for teaching."
Rowe received her bachelor's ('87) and master's ('98) degrees in journalism at MU. Prior to becoming a member of the MU faculty, she was a graduate teaching assistant at MU and managing editor of Missouri Life magazine.
Updated: May 1, 2020
Related Stories
Expand All
Collapse All
---