Kraxberger Earns 2007 Kemper Fellowship, University's Top Honor for Teaching Excellence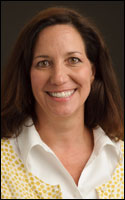 Columbia, Mo. (April 6, 2007) — For Lynda Kraxberger, associate professor of convergence journalism, even the toughest days at the Missouri School of Journalism are a reminder that teaching is what she loves.
"Even when it's cold and cloudy outside, I walk in every morning, and I walk through the lions and look up at the columns, and I think, 'We are in such a privileged class, to be able to talk about ideas and think about ideas and to get paid to teach and learn,'" Kraxberger said.
And April 3, 2007, certainly ranked among Kraxberger's best days at the School, when University of Missouri-Columbia Chancellor Brady Deaton, Commerce Bank Chairman Jim Schatz and several School administrators, faculty and staff members paid a surprise visit to her classroom to honor her with a 2007 William T. Kemper Fellowship for Teaching Excellence. Presented annually since 1991, the Kemper Fellowships include a $10,000 award. Kraxberger was one of five professors on campus to receive a Fellowship this year.
The process of selecting the Kemper Fellows begins with letters of nomination from colleagues, supervisors and students. Then, the nominee must prepare a comprehensive teaching portfolio for review by the selection committee.
"There's a point as you're working on the application when you think, 'Oh, gosh, wouldn't it be great to win, and wouldn't it be great to have that money,'" Kraxberger said. "But, when they walk into class and say, 'You've won,' the money immediately becomes secondary to knowing that you're joining this group of people who have done really good things in their teaching."
A commitment to innovation has highlighted Kraxberger's 14-year career at the School. In fact, it was an inclination to try new things that lured her from a successful career in broadcast journalism back to her alma mater. During her tenure as a television news producer, Kraxberger sensed reluctance among some seasoned veterans to experiment with new reporting and broadcasting strategies.
"There was a sameness to what we were doing every day in the newsroom," Kraxberger said. "Some of my colleagues weren't at all interested in improving, questioning or changing what they were doing."
When Kraxberger worked with the station's interns, however, she found them eager to learn, improve and change.
"And now, I get to work every day with people who are equally hungry to adapt," Kraxberger said.
In 1993, when Kraxberger first joined the faculty, she oversaw the broadcast news portion of the curriculum at KOMU, the only university-owned commercial television station in the United States that uses its newsroom as a working lab for students. It is affiliated with both NBC and CNN. Immediately, she revamped the courses she taught and redesigned how the KOMU newsroom related to those courses.
Seven years later, Kraxberger moved from KOMU into the traditional classroom and began teaching Broadcast I, the introductory course for radio-television journalism students. During the five years she taught Broadcast I, she never used the same syllabus twice, as her approach and subject matter changed constantly to adapt to changes in the field and in her students.
"Assigned to teach the gateway course in the sequence, Professor Kraxberger laid the groundwork for much greater student success by utilizing her special teaching style," said Kent Collins, associate professor and chair of radio-television journalism, in a letter of nomination. "The level of our sequence instruction rose. By raising the bar – both in teaching and in results – in the first course in the sequence, all other teaching and learning advanced."
In 2005, Kraxberger became a founding member of the School's newest faculty group: convergence journalism. Because media convergence is an emerging discipline, Kraxberger has designed and taught two new courses every semester for the past two years.
"Convergence is ever-changing," Kraxberger said. "We're not even sure yet that 'convergence' is the right thing to call it to accurately describe what we're doing."
One of the aspects of teaching convergence journalism that Kraxberger enjoys most is the special relationship she has with her students.
"Especially in convergence, I get to learn from my students all the time because everything is changing," Kraxberger said.
In several letters of nomination, Kraxberger's students indicated that her willingness to work with them outside of class, on matters both academic and personal, makes her an extraordinary teacher.
As one student wrote, "[Professor Kraxberger] helped me sort through the most confusion I have ever felt in my life…[She] sat down with me on multiple occasions and just listened while I spouted off everything that was on my mind."
Kraxberger's colleagues in the School of Journalism have recognized her teaching excellence as well. The journalism faculty recognized her two years ago with the School's highest teaching honor, the O.O. McIntyre Distinguished Teaching Award.
In addition to her work directly with students, Kraxberger has served on numerous School and University committees. During her term on the School's curriculum committee, she helped guide the implementation of a new, school-wide curriculum and provided curriculum workshops for other faculty members. She also served for five years on the University's curriculum committee.
As chair of the School's technology committee, Kraxberger played a key role in securing an academic transformation grant from ET@MOto enhance student career opportunities through the creation of electronic portfolios.
Kraxberger said she accepted the Kemper Fellowship with a sense of humility.
"There are other really outstanding teachers in the Journalism School who have been nominated and haven't won Kemper Awards," Kraxberger said. "There's a certain amount of luck that goes into winning this award. I want to honor those other faculty members for their outstanding work. They know who they are, and their students know who they are. We just don't have enough ways to honor all the great teaching that goes on around here."
Six members of the journalism faculty have received the Kemper Fellowship in the past. The previous winners include John Schneller, Mary Kay Blakely, Sandra Davidson, Cynthia Frisby, Don Ranly and Lee Wilkins.
The William T. Kemper Fellowships for Teaching Excellence were established in 1991 with a $500,000 gift. Kemper, a 1926 graduate of the University, was a well-known civic leader in Kansas City, Mo., until his death in 1989. His 52-year banking career included top positions at banks in Missouri, Kansas and Oklahoma. Commerce Bank manages the Kemper trust fund.
Updated: April 16, 2020
Related Stories
Expand All
Collapse All
---