Missouri Journalism Professor Awarded 2011 Kemper Fellowship for Teaching Excellence
Mike McKean Is One of Five MU Teachers to Be Recognized
By Dolores Obregon
Planning and Communications Staff
Columbia, Mo. (April 7, 2011) — Mike McKean knew he had been nominated for one of the William T. Kemper Fellowships for Teaching Excellence, but he did not know when the winners would be announced. The "when" question was answered on the morning of April 4 during his convergence journalism capstone class.
MU Chancellor Brady Deaton, Commerce Bank Chairman Jim Schatz and a group of professors, administrators and staff surprised McKean by honoring him with the Fellowship, which includes a $10,000 award. Fellowships are awarded to five outstanding teachers at the University of Missouri each year.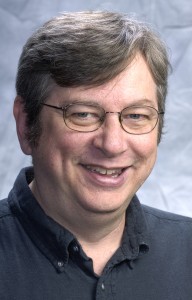 McKean, BJ '79, is an associate professor of convergence journalism in the Missouri School of Journalism and director of the Futures Lab for the Reynolds Journalism Institute.
The William T. Kemper Fellowships for Teaching Excellence were established in 1991 with a $500,000 gift. Kemper, a 1926 MU graduate, was a well-known civic leader in Kansas City until his death in 1989. His 52-year career in banking included top positions at banks in Missouri, Kansas and Oklahoma. Commerce Bank manages the trust fund.
Lynda Kraxberger, chair of the convergence journalism faculty, said that McKean has modeled excellence as a teacher.
"He respects his students, treating them as adults who learn by doing using experiential methods. He coaches and encourages while rewarding innovation both in and out of the classroom," Kraxberger noted. "As a result of his teaching and leadership, the Missouri School of Journalism has pushed forward in the ways that it teaches multi-platform and multimedia reporting to the next generation of journalists."
McKean has been a member of the School of Journalism faculty for 25 years. As the media landscape has changed, McKean's teaching philosophy has not. McKean believes in giving his students as much time and attention as possible and that students learn through experience.
"My teaching style is very project oriented," he said. "I am more of an enabler than anything because I give students the resources and opportunities they need to work with external clients so they can get real-world experience beyond the doors of MU."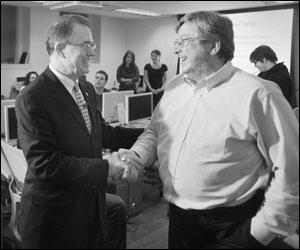 Six years ago, McKean helped created the convergence journalism emphasis area in the School. Students who enroll in it gain skills working with different types of traditional and new media, including radio, websites and television. Currently, McKean teaches the convergence journalism capstone course. He has advised more than 75 teams of seniors as they develop real-world multimedia projects.
"It's nice to be recognized for helping take the J-School in new directions," McKean said.
McKean has created real-world, high-profile opportunities for students that push them to succeed and play a part in the transformation of media. He has developed and manages the annual RJI Student Competition where student teams design applications for industry-leading corporate partners, such as Apple, Adobe, Google, AT&T, Sprint, and the Hearst Corporation. As a result of the success of these competitions, McKean also co-teaches a class with the MU School of Engineering that focuses on team-based mobile application development. Journalism and computer science students build applications for real-world clients.
Previously, McKean has received numerous recognitions, including the MU Faculty-Alumni Award, the Excellence in Education Award and the MU Innovator Award for Advanced Teaching with Technology.
"I always hoped I might get this award at some point in my career, and it feels good that I finally got it," McKean said. "It's easier to be a well motivated teacher who seeks opportunities for the students when they're willing and able to take advantage of those opportunities. Journalism students do just that."
McKean isn't exactly sure how he'll spend the $10,000 award, but definitely knows where some of it will go.
"The folks at Visa will be happy to hear about it," he said.
J-School Kemper Award Winners
Updated: May 21, 2020
Related Stories
Expand All
Collapse All
---