Missouri Photo Workshop to Document the Black Experience in Small-Town Missouri
Columbia, Mo. (Jan. 29, 2010) — In commemoration of Black History Month, the Missouri Photo Workshop has mined its digital archives and created an exhibit called "Documenting the Black Experience in Small Town Missouri." It will be on display on the second floor of Ellis Library on the University of Missouri campus from Feb. 1 to Feb. 28, with a few additional prints in the foyer of the Reynolds Journalism Institute. This exhibit complements another special exhibit from the archives of the Pictures of the Year International, which will be on display in the RJI foyer for the next three months.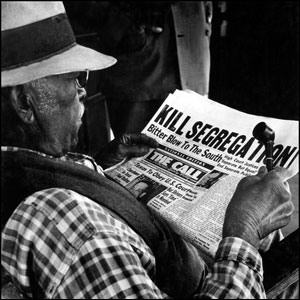 The MPW exhibit explores the lives of African-Americans in small towns. From schools to churches to homes, blacks built their own community within the larger community, often because of whites-only attitudes and laws. With the Brown vs. Board of Education ruling in 1954 that mandated school desegregation and the Voting Rights Act of 1965, integration was implemented across the state, but the black experience remains singular.
MPW co-directors Jim Curley and David Rees selected the images. This is the second exhibit created in three years from the Workshop's digital archives. Rees also serves as the chair of photojournalism at the Missouri School of Journalism.
The Workshop, which was founded in 1949 by journalism professor Clifton Edom, has recorded rural life for six decades. Over the years, more than 2,000 photographers have documented 43 Missouri communities. The towns are a laboratory for photographers to hone their visual storytelling skills under the guidance of a demanding faculty, some of the nation's top picture editors and photographers. It is a rigorous week for the photographers, who are expected to follow Edom's prescription of making meaningful pictures: intensive research, followed by intent observation and judicious timing.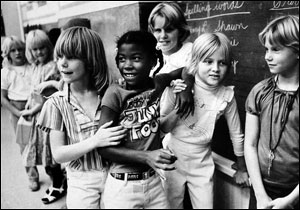 Workshop photographers study lives of individuals, structure of families and issues of the day. By investing significant amounts of time getting to know their subjects and building a trusting relationship, photographers' pictures show intimate portrayals that provide insight and savor a slice of time. Often, an image transcends a single moment and represents a universal experience. Cumulatively, the photographs provide a visual record of Missouri's small towns.
The digital archiving project of the Workshop has been made possible by a grant from the Rust Family Foundation. The archiving work is still underway but is nearing completion.
The Missouri Photo Workshop is sponsored by the Missouri School of Journalism, with educational grants from the Missouri Press Association Foundation and Nikon Professional Services. Please visit the Missouri Photo Workshop for more information.
For more information about the Workshop or to get higher resolution images from this exhibit for use in reviews or articles about the exhibit, please contact Jim Curley (573-875-1746) or David Rees (573-882-3635).
Updated: May 6, 2020
Related Stories
Expand All
Collapse All
---