Alumna Named Recipient of NCA/ICA Dissertation of the Year Award
Liz Gardner, PhD '10, Wins $500 and a Complementary Ticket to the Conference in Boston
By Dolores Obregon
Planning and Communications Staff
Columbia, Mo. (April 7, 2011) — Liz Gardner, PhD '10, was selected as the winner of the 2011 National Communication Association/International Communication Association Health Communication Division Dissertation of the Year award.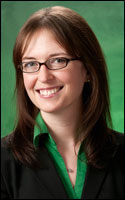 As this year's recipient, Gardner will receive $500 and a waiver to attend the annual ICA Conference this May in Boston. During the conference, Gardner and her adviser, Glenn Leshner, will be recognized. Leshner is a professor in the strategic communication emphasis area and co-director of the Psychological Research on Information and Media Effects (PRIME) Lab. The PRIME Lab is an experimental research lab dedicated to the study of cognitive and emotional processing of media.
"Her dissertation was in great shape from the beginning, but once the data came in, they told such an interesting story that we knew it would be of substantial importance to the field," Leshner said. "Her work has important implications for health-communication practitioners."
The study, "Ease the résistance: The role of narrative and other-referencing in attenuating psychological reactance to persuasive diabetes messages," was based on research that tested exercise and diet health messages designed for people with Type 2 diabetes. She found that messages that were presented in a narrative style, such as those about an individual's story, and messages that focused on getting healthy for others, such as family, friends, significant others, were best at reducing resistance to the messages and encouraging positive evaluations and behaviors.
Gardner's dissertation was one of 24 nominated for the award. "This year we received more nominations than ever before, making the competition highly competitive," said Monique Turner, ICA's chair of the health communication division.
Gardner is currently an assistant professor in public relations at Texas Tech University. ICA, one of the leading communication-related academic organizations, aims to advance the scholarly study of human communication by encouraging and facilitating excellence in academic research worldwide.
Updated: May 21, 2020
Related Stories
Expand All
Collapse All
---