Novak Leadership Institute Provides Training to Special Olympics Missouri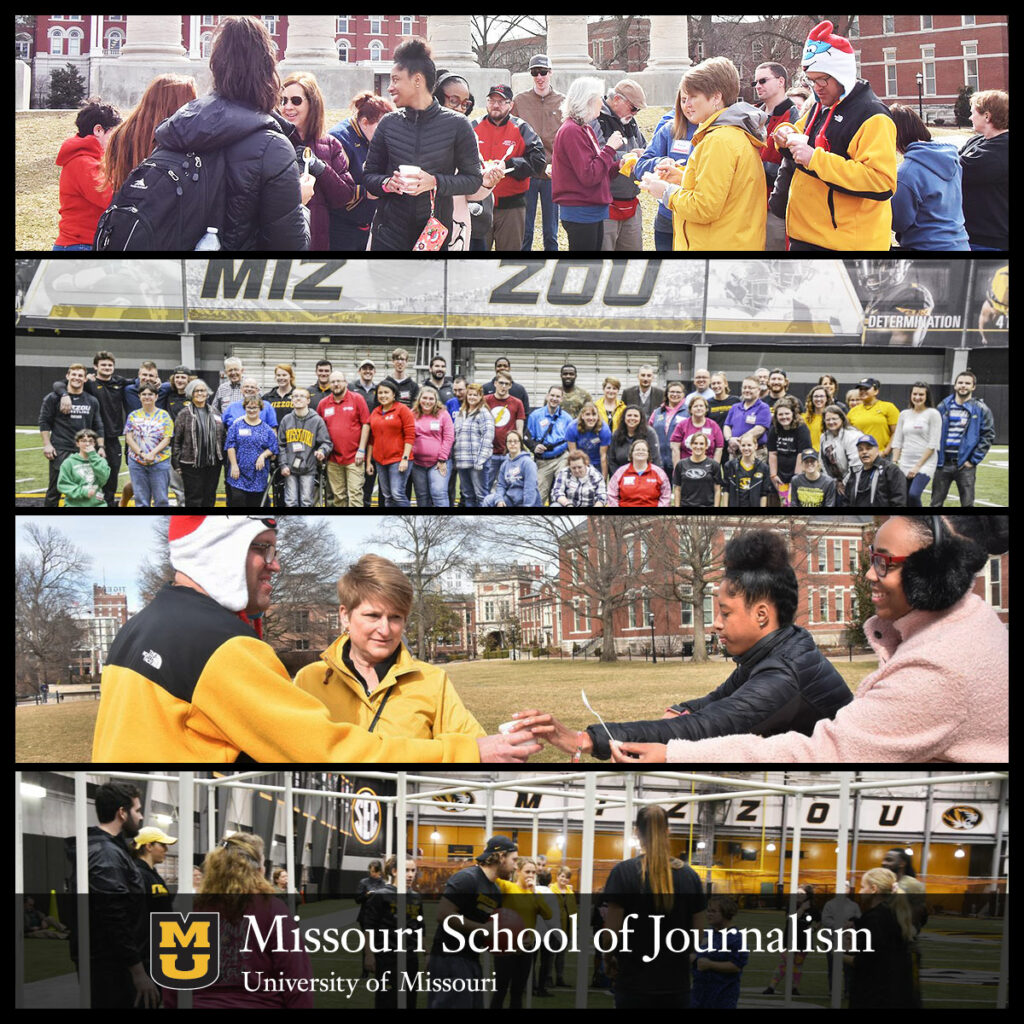 Now in its third year, the Special Olympics Athlete Leadership Program known as ALPs U played host to more than 30 Special Olympics Missouri athletes and families March 8-10 on the Mizzou campus. Student scholars from the School's Novak Leadership Institute experienced first-hand the value of volunteering, leading and mentoring others.
The 3-Day Athlete Leadership Program Helps Develop Leadership and Life Skills
Columbia, Mo. (March 27, 2019) — More than 30 Special Olympics Missouri (SOMO) athletes and families participated in the Special Olympics Athlete Leadership Program, known as ALPs U, on the University of Missouri campus in March. The annual event, now in its third year, is hosted by the Novak Leadership Institute (NLI) at the Missouri School of Journalism.
ALPs U is designed to develop leadership and life skills for intellectually and physically disabled athletes through challenging course work and events. The School's Novak student scholars volunteered their time and leadership skills to work with the athletes during the three-day program, held March 8-10.
"Our Novak students have the opportunity to experience first-hand the value of volunteering, leading and mentoring others," said Brittany Archie, a master's degree candidate and Novak facilitator for the ALPs U weekend. "There is real power in partnering."
During the fast-paced weekend, SOMO athlete-leaders could take classes on a range of topics, including public speaking, photography, lifetime health and fitness, nutrition, videography, internet/email and social media and blogging. The leadership component focused on what it means to be a leader and identified athlete-leader roles within SOMO. To graduate from ALPs U, athletes must complete 32 hours of course work, including a capstone project.
Fun, team-building events were also front and center at ALPs U. SOMO athletes were welcomed to the Dan J. Devine Pavilion Indoor Practice Facility on Saturday night, March 9, by MU student athletes, representing the football, wrestling, track, volleyball, cross-county, swimming and golf. SOMO-MU athletes formed teams for some friendly competition in kick ball and other games. On Sunday, Novak students organized the ALPs U graduation ceremony. They led the SOMO athlete-leaders and their families in running through the columns and then enjoying the traditional Tiger Stipe ice cream to celebrate their success in the tradition of the Mizzou Alumni Association's Tiger Prowl.
The Novak-SOMO partnership began with the founding of NLI in 2016. Since then, Novak students have partnered with SOMO as part of their coursework in strategic leadership, addressing real-world challenges through research and practical application. During the semester they complete volunteer hours for the organization to understand the needs and to share their leadership expertise.
The Novak Leadership Institute was created with a $21.6 M gift from David Novak, former Chairman and CEO of Yum! Brands and his family. The Institute offers students coursework in strategic leadership, organizational culture, and entrepreneurship and innovation. The Institute also provides executive leadership education to clients such as the UM President's office, the Missouri Chamber of Commerce and the Missouri State Office of Administration.
Updated: November 6, 2020
Related Stories
Expand All
Collapse All
---