Meet new School of Journalism Professor Dr. Zach Massey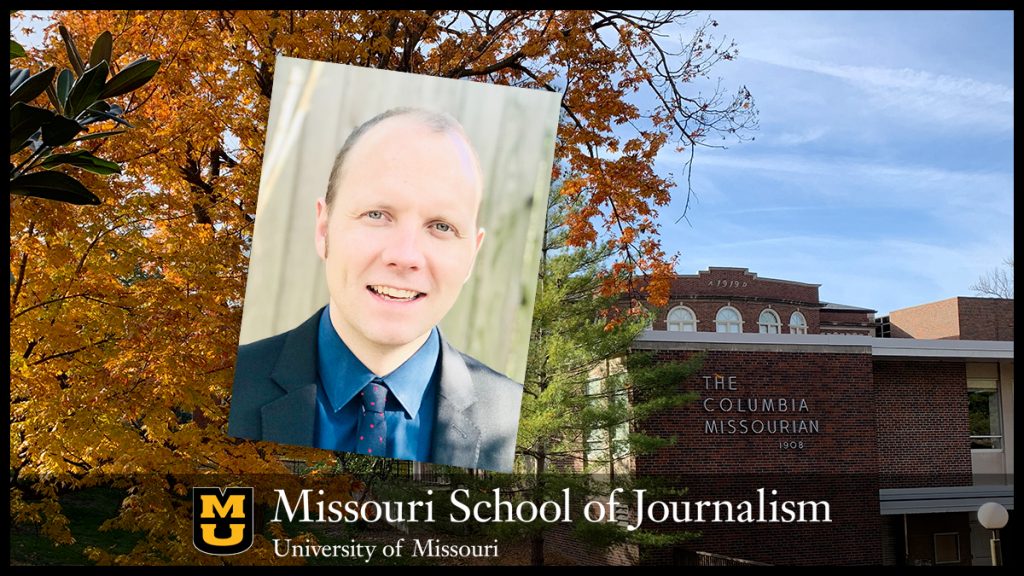 By Abby Werner
The first time new Strategic Communication faculty member Dr. Zach Massey visited the University of Missouri was in 2002, when a high school friend of his who was on the Mizzou wrestling team invited him to come check out Columbia for the weekend.
"When I got back home, a friend asked me what Columbia was like," Massey said. "I said, it's amazing! There's a main street that runs right along the university and Mizzou's campus is really pretty. So ever since then, I've always thought Columbia was awesome."
Massey joined the Strategic Communication faculty in August. He specializes in doing theoretical and applied research to inform consumers about risk so that they can make informed decisions about health and science.
"I consider myself a science communication person because I conduct research to hopefully inform the public," Massey said. "More specifically, I study the way we communicate messages that hopefully make people more literate about health and risk."
Massey earned his Bachelor of Arts, Master of Arts and doctorate in Communication, all from the University of Oklahoma, in 2013, 2015 and 2019, respectively. He then completed a postdoctoral research program at Georgia State University, before coming to MU.
Right out of high school in 1999, Massey enlisted in the Marine Corps. While in the Marines, he worked as a truck mechanic and recruiter. After that, he worked in restaurant management for about 10 years. In 2008, he had just started selling real estate with his wife, when the economic crash happened. That was when he decided to go to college, in the state he had grown up in: Oklahoma.
"I started my college career as a freshman when I was 29 years old," Massey said. "I had noticed that people who had strong communication skills excelled faster than those who did not. So when I was figuring out what I wanted to study, I told my advisor that I had decided on Communication because I thought it was an area of weakness that I could improve on."
Now that he is at MU, Massey is looking forward to getting to know his students and colleagues, not just within the School of Journalism, but other parts of campus, too. Massey is also interested in exploring a new campus environment.
"I've been in Oklahoma so long because I grew up in Norman right across the street from the university and I knew everything about campus," Massey said. "So I want to know about all there is to know here, like what are the shortcuts, where do I park, where's the pizza place everyone goes to. All of that cultural stuff you want to learn as a newcomer."
Massey's goals at MU include building a strong career that has balance. That means he is prioritizing having a good relationship with his students and being an effective teacher, as well as having a positive impact on their lives. He is working to be a collegial colleague and is hoping to become an even better researcher, publishing studies that have some kind of positive effect on the science communication field and a wider audience.
"Zach is a fantastic addition to our faculty," said Jon Stemmle, professor and chair of Strategic Communication. "Over the last two decades, many of our faculty have worked in the area of science and health communication and so with Zach and Kate Rose coming in this year, it just takes us to another level. The research he does on audiences and behavior change has the potential to blaze some new pathways in our field."
What began with a chance trip to visit a friend has now turned into a homebase for Massey who is looking forward to a long career at the School of Journalism.
"When I saw that the School of Journalism was looking for someone who specialized in science communication, grant training with a focus on health, I knew I had to apply," Massey said. "Now that I am here, I am so excited to live and work in the town that I found so cool back in 2002."
Updated: October 11, 2021
Related Stories
Expand All
Collapse All
---