Two Missouri School of Journalism students receive Hurley Scholarships to support participation in Washington Program
COLUMBIA, Mo. (Jan. 17, 2023) — The Missouri School of Journalism has awarded $5,000 scholarships to two students who will spend the spring semester in the nation's capital as part of the School's Washington Program. The Curtis B. Hurley Washington Public Affairs Journalism Scholarships will support School of Journalism students Komlavi Adissem and Harshawn Rantanpal as they hold down internships in Washington while participating in the semester-long program.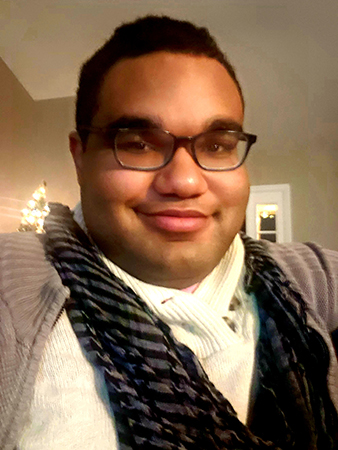 "Helping students develop hands-on work experience in Washington is such a pure expression of the Missouri Method, and the Hurley Scholarship enables us to make that experience even more affordable and accessible," said David Kurpius, dean of the School of Journalism. "I can't wait to see Komlavi and Harshawn make the most of this incredible opportunity."
The Hurley Scholarship is awarded to skilled and passionate juniors and seniors with an interest in public affairs journalism, particularly those from underrepresented groups or who have financial need. Created in 2021 by the Curtis B. Hurley Chair in Public Affairs Reporting, Alison Young, the scholarship seeks to make a Washington Program semester and its 12 hours of course credit about the same cost as a semester of on-campus classes in Columbia.
Students were selected by an all-star selection committee consisting of Young, Jeimmie Nevalga, Mark Horvit, Ron Kelley and Fritz Cropp.
"The selection committee was tremendously impressed by both of these students, especially by the depth of their journalism experience and their clear interest in doing government accountability reporting," Young said. "Both have used their time on campus to take full advantage the Missouri Method, building their skills in the university's newsrooms. That experience also clearly impressed hiring managers here in the nation's capital, allowing them to land two of Washington's coveted and highly competitive internships."
As with all those admitted into the Washington Program, the students will attend weekly seminars featuring some of the nation's top journalists and communicators in addition to working in a professional internship, offering invaluable exposure to the epicenter of America's public affairs journalism industry.
Meet the Hurley Scholars
Adissem, a junior and local government reporter at the Columbia Missourian — the School's digital-first community newspaper — will intern with MSNBC at Andrea Mitchell Reports, where he expects to perform research in addition to writing and editing. He is also the inaugural recipient of the Lewis Scholarship from the National Press Club, the sole recipient of the nationwide scholarship that seeks to support students of color interning in Washington. The scholarship provides a $4,000 stipend and free housing in the city — an estimated total value of $10,000.
"I'm so incredibly grateful," Adissem said. "I've always been a person who's never really had confidence in my abilities. Being able to have that reassurance and validation that I'm a good journalist who can put out meaningful content…is really amazing."
The internship will be Adissem's first hands-on experience with broadcast journalism, a prospect he approaches with the earnestness of a student well-schooled in the Missouri Method.
"It's something new, so I'm excited to delve into the world of broadcast and see what it's all about," he said. "I'm excited to get my hands into the world of D.C. and national politics while also exploring what it's like to be a journalist on a larger scale."
Ratanpal, also a junior who serves as reporter at the Missourian and the School's NPR member station KBIA-FM, has landed a reporting internship at Open Secrets, a nonprofit investigative journalism outlet that bills itself as "the nation's premier research group tracking money in U.S. politics and its effect on elections and public policy."
"I know it's a competitive field, and the other people going to D.C. are very intelligent people," Ratanpal said. "I feel incredibly lucky and grateful that I got the scholarship."
A variety of inspirations and interests led to Ratanpal pursuing a journalism degree at Mizzou — video game journalism entrepreneur and School of Journalism alum Greg Miller, BJ '05, was an early inspiration — but the internship's emphasis on investigative journalism seems like a natural fit as, in his third year at the School, Ratanpal's career aspirations begin to become more well-defined.
"Seeing the work of good, local investigative journalists in my own hometown really pushed me over the fence of, 'this is what I want to do,'" he added. "I want to hold people accountable, and I also want to be this person for the people who can get information that they need."
Applications will open in February for the next round of Hurley Scholarships that can be used to attend the Washington Program's fall 2023 semester. Interested students can contact Young to learn more about the scholarship and other financial aid opportunities to support a spring, summer or fall semester in Washington.
About the Hurley Scholarship
The Hurley Scholarship is a program of the Curtis B. Hurley Chair in Public Affairs Journalism, which was created in 1998 with a gift from the Edgar A. McLaughlin and Lucile T. McLaughlin Trust to honor Mr. McLaughlin's former mentor. Curtis B. Hurley was an Arkansas editor who attended the University of Missouri with the intention of entering the School of Journalism. He ultimately left to go to war and did not graduate. Hurley gave McLaughlin his first job at a daily newspaper in 1925, encouraged McLaughlin to study at Mizzou and lent him the $400 it cost to attend the university at the time.
Updated: January 17, 2023
Related Stories
Expand All
Collapse All
---