Reporters Believe General Public Is Unable to Understand Scientific Issues, MU Study Finds
By Jill McDonnell
MU News Bureau
Columbia, Mo. (March 8, 2006) — While topics such as "genetics" and "biotechnology" have become part of the public's general vocabulary, some researchers believe these issues receive far less media coverage than they once did. Does the lack of coverage stem from general public disinterest? Does it come from the inability of scientists to publicize their findings? Does the blame rest with the reporters themselves? A new study conducted by Missouri School of Journalism researchers examined the role of the scientific reporter, who acts as the gatekeeper of scientific information.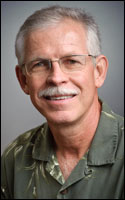 "While scientific reporters seemed to have a generally positive approach to biotechnology and shared these beliefs with friends and peers, they were not so optimistic about the beliefs of the general public," said Glen T. Cameron, MU professor of advertising and the Gregory Chair of Journalism Research, who conducted the study along with doctoral candidate Mugur Geana.
"Science reporters and editors believed citizens wouldn't be able to acquire and process the information about biotechnology and the sources of information used to trigger science stories," Geana said.
Geana and Cameron surveyed 304 science and medical reporters. Four main areas of research were addressed: the level of interest in biotechnology held by reporters, their beliefs about biotechnology, the perception of public/peer attitudes toward biotechnology, and the sources of information used to trigger science stories.
They found that 92 percent of reporters were interested in advances in medicine and 82.5 percent were interested in biotechnology. Geana and Cameron also found that 89.5 percent of reporters also believed biotechnology benefits humankind.
"Reporters believed only about half of U.S. citizens would favor biotechnology use," Cameron said. He added that 74.7 percent of reporters believed they had to simplify their scientific message.
"Contrary to findings by other researchers, we found that science reporters and editors had a high regard about the quality of their scientific sources, which also carries a lot of weight in how they approach their stories," Geana said.
Cameron said this study has implications for the public because reporters will either not cover certain material or believe they have to simplify it extensively in order to reach a general audience. The researchers also found that reporters were concerned that popular culture was having a negative effect on the public's perception of science.
Geana stressed that the information the public receives from popular culture, such as the movie industry, might create confusion with inaccurate information while also having a powerful emotional effect. The researchers found that science reporters perceived pop culture as being negative to scientific advancement. Reporters criticized the tendency by novel writers and movie producers to exploit the negative while failing to include well-documented facts about scientific research.
Geana and Cameron said future research should explore whether similarities exist between general opinion about other controversial scientific issues beyond biotechnology and the personal opinion of the scientific reporter or editor.
Results of this research will be presented in June in Dresden, Germany at the 2006 Conference of the International Communication Association. Presenters at the conference had to submit their research for consideration through an outside peer review process.
Updated: April 8, 2020
Related Stories
Expand All
Collapse All
---