Overholser to Headline Mizzou Dinner in Washington, D.C., April 21
Former Ombudsman for The Washington Post Offers a "A Manifesto for Change" in Journalism
Washington, D.C. (April 4, 2007) — Geneva Overholser, the Curtis B. Hurley Chair in Public Affairs Reporting for the Missouri School of Journalism, will lead an all-star University of Missouri-Columbia delegation at a reception and dinner in the nation's capital April 21.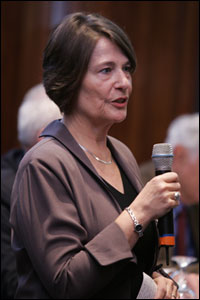 As the evening's featured speaker, Overholser will address the crisis facing journalism in the public interest – and what citizens can do about it. MU Chancellor Brady J. Deaton will host the event with his wife, Anne Deaton, and Heather Starek, BJ '97, president of the Washington, D.C., Mizzou Alumni Association (MAA) chapter.
Overholser teaches at the Missouri School of Journalism's Washington, D.C., bureau. Before joining the School, she was editor of The Des Moines (Iowa) Register, a member of The New York Times editorial board and an ombudsman at The Washington Post. Overholser has been a regular media commentator, Columbia Journalism Review columnist, congressional fellow, Nieman fellow at Harvard, chair of the Pulitzer Prize Board and an officer of the American Society of Newspaper Editors.
Overholser's 2006 report, "On Behalf of Journalism: A Manifesto for Change," calls for sweeping changes for journalism to survive in today's information landscape.
"The story of American journalism is undergoing a dramatic rewrite," Overholser says in the Manifesto. "It's easy to overlook the promise of the many possibilities that lie before us. Our focus here is on those possibilities."
The evening at the elegant Omni Shoreham Hotel also will showcase a performance by MU's award-winning Contreras Saxophone Quartet. The student ensemble won both the state and regional chamber music competitions of the Music Teachers National Association.
Titus Blackmon, M.Ed. '88, president-elect of the MAA, will emcee the event.
"I am excited that MU is bringing such a great contingency to Washington, D.C.," Blackmon says. "The students are always a big draw for our alumni, and I am looking forward to hearing from such a powerhouse speaker. We are fortunate to claim such students and faculty as our own."
Many of the University's Washington, D.C.-area alumni are expected to attend the event.
"We have a growing number of MU alums in the area, and our chapter is increasingly more active in terms of involvement with the campus and MAA," Starek says. "I'm honored that Chancellor Deaton is spending time with our chapter members to keep us connected with our larger Mizzou family and informed about what is happening back on campus."
Updated: April 16, 2020
Related Stories
Expand All
Collapse All
---