New Smith/Patterson Fellow Brings Chemical Engineering Background to Health Communication
Columbia, Mo. (June 24, 2010) — Since early childhood the new Smith/Patterson Fellow at the University of Missouri had a passion for science. That passion continued through college as he studied to become a chemical engineer at Michigan State University. Then, during his junior year a strange thing happened.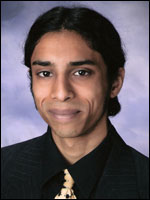 "During my junior year of engineering school I discovered I had a talent for writing," said Pavan Vangipuram, the 2010-11 Smith/Patterson Fellow. "Since then it has been my fondest dream to combine my two passions – scientific research and public communications – to help the public better understand scientific ideas and results."
Vangipuram has made some progress toward that goal since his junior year epiphany, particularly in the fields of health science and science journalism. On the science side, he worked in several laboratories at Michigan State, including the Protein Expression Laboratory directed by Dr. Mark Worden, researching high-yield protein synthesis and extraction methods. During this experience Vangipuram learned how to write about the research in an easy to understand, jargon-free way. He also spent time at the Wayne State University School of Medicine performing stem cell research on brain cells, particularly for learning more about Lou Gherig's disease.
These experiences provided Vangipuram with knowledge of modern molecular biology techniques, including gel electrophoresis, gene splicing, vector transduction and cloning.
To increase his journalism knowledge, Vangipuram has interned at three newspapers, including one in India. While in India, he wrote several articles about BT Brinjal, a genetically-modified strain of eggplant which Monsanto was attempting to introduce into India. This caused a widespread public uproar and several doubts regarding the safety of the BT strain. Vangipuram was able to use his previous experience with genetics to interview scientists who have done research on the BT gene and report on their findings.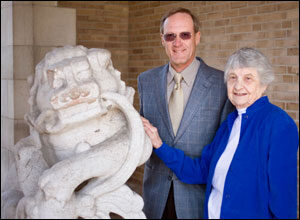 Through the Smith/Patterson Fellowship Vangipuram will be able to use his extensive science and health knowledge to nurture his journalism skills.
The annual Fellowship, and accompanying Lecture Series, was made possible through a $100,000 gift from Russell G. Smith II in honor of former MU Professor Joye Patterson, who was Smith's mentor throughout college. Patterson, who lives in Columbia, taught science writing at the journalism school from 1966 to 1988.
Smith was raised in St. Louis and has been active in the Joplin business community for the past 36 years. Smith earned two degrees from MU: a Bachelor of Journalism degree in 1967 and a Master of Arts degree in 1971 with a focus in science writing and public relations. He is the managing partner of MYRUSH Futures, LP, a Midwest investment property and consulting firm. Previously, he was the Missouri division president of May's Drug Stores Inc., based in Tulsa, Okla. Smith and his wife, Gail, who received a Bachelor of Arts degree in education from MU in 1968, live in Joplin; Naples, Fla.; and Telluride, Colo.
Vangipuram will work with the Health Communication Research Center's (HCRC) staff and faculty on science- and health-related grant projects funded by agencies such as National Cancer Institute, National Institutes of Health and the Howard Hughes Medical Institute.
The Smith/Patterson Fellowship is an annual award given to an incoming or currently enrolled student in the master's program at the Missouri School of Journalism. Applications for the 2011-2012 Fellow position will be available from the HCRC in early 2011.
About the Health Communication Research Center
The Health Communication Research Center operates under the auspices of the Missouri School of Journalism. The HCRC's primary mission is to foster research to improve communication between the health care community and the public. The Center capitalizes on the University of Missouri's strengths in health care outreach, education and prevention and provides support to researchers conducting pilot studies and developing proposals for further extramural funding. For more information, visit the Health Communication Research Center website.
Updated: May 12, 2020
Related Stories
Expand All
Collapse All
---