Print and Digital News Senior Earns a Top 10 Ranking in Hearst 'Breaking News' Intercollegiate Writing Competition
Harry Plumer Wins for a Story about Missouri's Move to the SEC
Columbia, Mo. (April 17, 2012) — Print and digital news senior Harry Plumer was a top 10 winner in the college breaking news writing category in the 52nd annual William Randolph Hearst Foundation's Journalism Awards Program.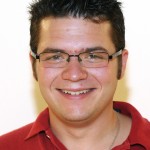 Plumer earned a tenth-place ranking for "MU Chancellor Deaton Celebrates Missouri's 'Historic' Move to SEC," which was published in the Columbia Missourian. There were 81 students from 46 universities who participated in this competition.
It was a story that Plumer, of Amherst, Mass., almost didn't get to tell. He was on his way back to Columbia after spending 10 days reporting in Texas on various things related to Missouri football. Three hours into his journey, Plumer received a text message informing him that the SEC announcement was going to be made that afternoon. He had been chasing this story for more than two months.
Plumer immediately hit the accelerator and began racing the clock to get back to Columbia in time for the celebration. His action caught the attention of an Oklahoma highway trooper, who mercifully let Plumer continue his journey without a speeding ticket. Plumer arrived home 20 minutes before the scheduled start of the celebration.
"I want to give credit to all the people that helped make this happen. This wasn't an individual effort," Plumer said. "My editors Greg Bowers and Grant Hodder, and my colleagues on the football beat Andrew Wagaman and Vinnie Duber, all deserve part of this award. I am truly blessed to have had the opportunity to work with them, and the rest of the Missourian staff. I will always be grateful for the opportunities I've been given by the Missourian and the Missouri School of Journalism."
Plumer's placement in the last of the monthly writer awards competition allows the Missouri School of Journalism to receive a medallion for earning fourth-place overall.
Judging the writing competition this year were Jennifer Sizemore, vice president/editor-in-chief, MSNBC.com and executive producer, NBC News; Ward Bushee, editor and executive vice president, The San Francisco Chronicle; and Marty Kaiser, editor and senior vice president, Milwaukee Journal Sentinel.
About the The Hearst Journalism Awards Program
The Hearst Journalism Awards Program is conducted under the auspices of accredited schools of the Association of Schools of Journalism and Mass Communication and fully funded and administered by the William Randolph Hearst Foundation. It consists of five monthly writing competitions, two photojournalism competitions, three broadcast news competitions and four multimedia competitions, with championship finals in all divisions. The program awards up to $500,000 in scholarships and grants annually. A total of 106 undergraduate journalism programs at colleges and universities across the nation are eligible to participate.
Updated: June 5, 2020
Related Stories
Expand All
Collapse All
---