99 Percent of Recent Missouri Journalism Graduates Have Paid Employment or Are in Graduate School
2013 Missouri Journalism Alumni Are Working in 35 States and 7 Countries
Columbia, Mo. (July 22, 2014) — Almost all – 99 percent – of 2013 bachelor degree graduates responding to a survey said they have paid employment or are enrolled in a graduate program, according to a new placement survey conducted by the Missouri School of Journalism.
The survey, conducted during the spring 2014 semester, was sent to the 492 undergraduate students who graduated from the School at the end of the 2013 spring, summer and fall semesters. A total of 235, or 47 percent, responded.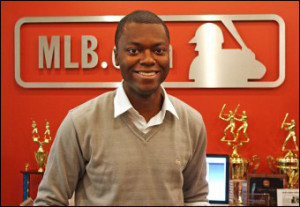 The respondents represent a cross-section of students from all undergraduate emphasis areas, including 36 percent who studied strategic communication; 20 percent, radio-television journalism; 15 percent, magazine journalism; 11 percent, convergence journalism; 11 percent, print and digital news; and 7 percent, photojournalism.
"We routinely hear from employers who say our graduates have the cutting-edge skills that prepare them for the workforce right out of school," said Lynda Kraxberger, associate dean for undergraduate studies. "From their first semester through their last, students are encouraged to think critically and solve problems, giving them an edge when it comes to the job market after graduation."
The largest group, 81 percent, said they have a paid full-time position. Eight percent said they have a paid part-time job, and another 8 percent are enrolled in graduate school. One percent reports serving in a paid internship; 1 percent, self-employed; and 1 percent, unemployment.
Seventy-four percent said they are employed in an entry-level position; 25 percent, mid-level; 1 percent, senior level.
The areas of employment of the respondents are varied: 30 percent, public relations and marketing; 23 percent, TV and radio; 19 percent, online and social media; 16 percent, newspapers and wire services; 16 percent, advertising agencies; 7 percent, design and art; and 6 percent, magazines and publishing. (Note: Some respondents selected more than one area in which they are currently working.)
Other industries include advertising sales, event management, nonprofit and government, photojournalism, teaching/academia, trade publications and newsletters, and Web development.
Four percent reported incomes of more than $50,000, although most, 45 percent, earn in the $30,000-$39,000 range. Thirteen percent earn in the $40,000-$49,000 range.
The respondents are working in 35 states. Missouri tops the list with 36 percent, followed by Illinois, 13 percent; New York, 6 percent; Texas and Kansas, both at 4 percent; and California, 3 percent.
Recent Missouri Journalism graduates are also working in seven countries: China, Hong Kong, Japan, Peru, Qatar, Rwanda and South Korea.
Gary Cotton, BJ '12, is one recent graduate who benefited from the Missouri Method of hands-on, real-world experience. As a student, he studied convergence journalism and was a sports reporter for the Columbia Missourian. During his senior year, Cotton was selected to participate in the Sports Journalism Institute, an organization that helps minority students get started in the sports journalism industry. The Institute conducts its boot camp in the Missourian newsroom, then sends each student out to a paid internship. Cotton's MLB.com internship was part of SJI. He turned that internship into an employment opportunity at MLB.com in New York City.
Cotton said his would-be bosses at MLB.com told him that his versatility made him stand out from the other interns.
"The Missouri School of Journalism, specifically the convergence journalism program, made me a well-rounded professional," Cotton said. "By working with the Missourian, Newsy.com and KBIA. I grew accustomed to improvising, and I gained the skills I needed to stand out in the crowd."
Updated: July 27, 2020
Related Stories
Expand All
Collapse All
---