KBIA receives $10,000 grant from Missouri Humanities Council for 'Canned Peaches' podcast
Nina Mukerjee Furstenau
COLUMBIA, Mo. (June 13, 2023) — KBIA-FM, the Missouri School of Journalism's NPR-member public radio station, has received a $10,000 grant from the Missouri Humanities Council (MHC) to develop the "Canned Peaches" podcast project.
A mutual effort that also includes the School of Journalism's Vox Magazine, the Missouri News Network and project partner Harvest Public Media, the collaborative nature of the podcast mirrors its subject matter, which will explore the global interconnectedness of the agriculture industry that brings food to Midwestern plates.
"Collaboration is a growing necessity in the industry, and the team of faculty, staff and students behind this podcast are showing what that looks like," said David Kurpius, dean of the School. "I can't wait to see this come together as an impactful look at how we engage with the world through our food."
Vox Magazine will publish content alongside the podcast in addition to assisting during the production phase. Harvest Public Media, a public radio collaboration based at KCUR that covers agriculture, environment and rural issues, will offer distribution through its network of public media stations throughout the Midwest.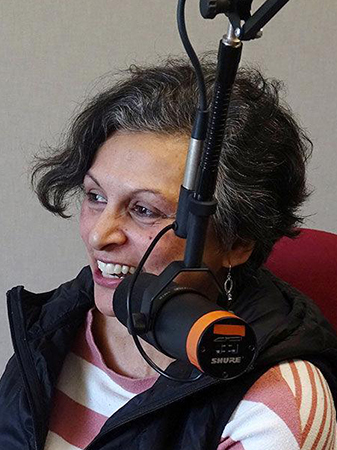 Co-created by author and science journalist Nina Mukerjee Furstenau, who will host the podcast, and Janet Saidi — KBIA's long-form audio producer and an assistant professor at the School of Journalism — the project is something of a passion project. Saidi said much of the production team — which also includes Vox Magazine Editorial Director and Professor Heather Isherwood, Harvest Public Media editor Maria Altman, KBIA News Director and Professor Ryan Famuliner and producer Lauren Hines-Acosta — grew up on or near farms.
Indeed, a shared sense of connection is something they hope to convey in "Canned Peaches."
"We have all come together through ingredients," Saidi said. "Indigenous influences, for example, are very present in foods that we think of as Midwestern, and that is something we really want to explore."
Furstenau added that the stories behind those ingredients can be as absorbing as the flavors themselves.
"There are so many little-known facts lurking in Midwestern foods — from the hands that created iconic desserts to the idea behind a flavor blast that generations have loved," Furstenau said. "With a closer look, you get connections across the globe that feel important to understand. It's such fun to see how we are already so culturally entwined on the plate."
Furstenau served as a faculty member of the University of Missouri's Science and Agricultural Journalism program from 2010-2018 and is the director of the Food Project for the nonprofit Media for Change. As a U.S. Fulbright Scholar, she researched her books "Green Chili & Other Impostors" and "Chilies, Chhana & Rasa" in India, writing about her personal connections to foods and their movement around the world. She is the author of several other books about regional foods and the people who produce them.
The grant is the second awarded to KBIA by MHC, a state affiliate of the National Endowment for the Humanities and the only statewide agency in Missouri devoted exclusively to humanities education for citizens of all ages. Previously, the agency provided funding to KBIA's Missouri on Mic, an oral history and journalism project.
Taking it on the road
In addition to the MHC grant, "Canned Peaches" will also receive as much as $5,000 from Professor Kathy Kiely's Lee Hills Chair in Free-Press Studies for a public engagement component of the project.
"Once the podcast rolls out in the fall, we'll take it on the road and host some discussions with food producers and farmers. We'll get out of the Columbia area a bit, maybe even further afield."
Kiely said she was attracted to this element of the project because of its potential to elevate voices that are not always highlighted by media outlets.
"One of my concerns as the Lee Hills Chair is there is so much skepticism and distrust in our society now, and I think one reason some people distrust the news is they don't see themselves in it," Kiely said. "Certainly, rural communities are far less covered than urban centers. So if someone is willing to invest the time talking to people who aren't spoken to as often, I'm willing to invest the money."
She added that the podcast will be an important, positive presence in a media landscape that is sometimes overburdened with stories about corruption, malfeasance and tragedy.
"I see projects like 'Canned Peaches' as an antidote to cynicism," Kiely said. "A full news report needs to show the good as well as the bad. 'Canned Peaches' will do that, and I see it as an investment in the free press. A free press depends on the trust of our audience, and this is something that will build that trust."
"Canned Peaches" is currently expected to debut in November.
Updated: June 13, 2023
Related Stories
Expand All
Collapse All
---