Blog Documenting Pioneering Course in Drone Journalism Launched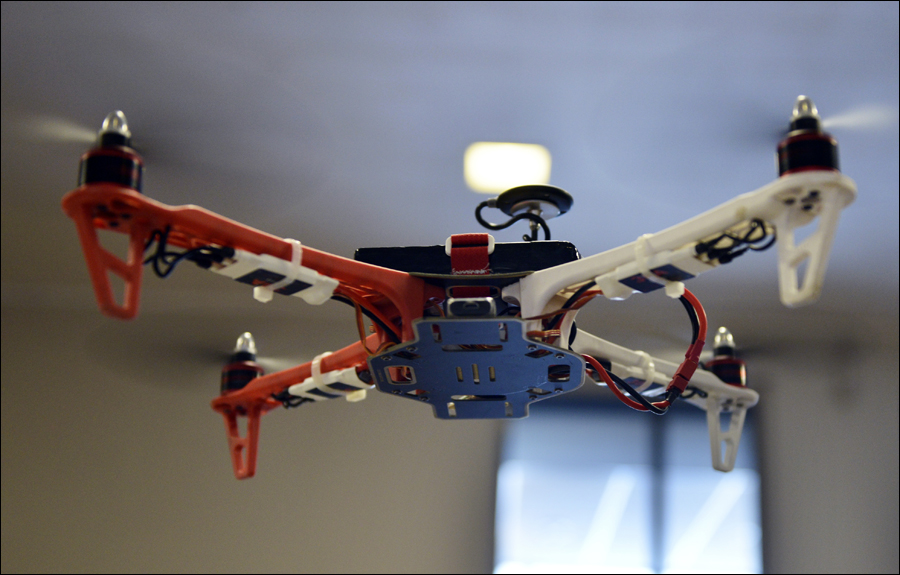 Missouri School of Journalism Students Explore Public Service News Coverage Using New Technology
Columbia, Mo. (March 8, 2013) — Students at the Missouri School of Journalism have launched a blog documenting a pioneering course in drone journalism.
Related: NBC Nightly News Weekend Edition for March 9:
"Schools Use Drones for Learning"
The blog, called "The Missouri Drone Journalism Program," was begun in January by three seniors in the convergence journalism capstone course taught by Mike McKean, associate professor and director of the Reynolds Journalism Institute Futures Lab.
The blog is tracing the progress of another course, called "Science Investigative Reporting/Drone Journalism," taught by Bill Allen, assistant professor of science journalism.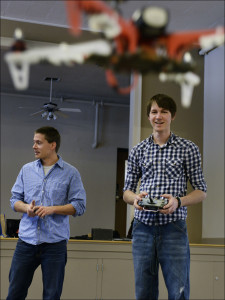 The drone course is one facet of the new University of Missouri Drone Journalism Program, a collaboration among the school, KBIA-FM, the MU Information Technology Program and the College of Agriculture, Food and Natural Resources. Scott Pham, content director at KBIA, leads the Drone Journalism Program.
The aim of the drone journalism course is to explore the possibilities of using small, unmanned aerial vehicles to gather video and photos that support stories on the science, environmental and agricultural beats.
"Our vision is to help lead the journalism profession responsibly and innovatively into a new frontier of public service news coverage using this new technology," Allen said. "We think drones, if used right, have potential to help journalists perform their news-gathering and watchdog duties in our democracy."
The bloggers – Jaime Cooke, Zach Garcia and Robert Partyka – document the experience of the students as they practice flying drones and learn the ethical, legal, political and other aspects of doing drone journalism. It describes the group's brainstorming and pursuit of stories.
The MU drones, or "J-bots" as the students call them, weigh only a few pounds and are about the size of a basketball with foot-long legs and small motors with propellers. An iPhone or a GoPro camera is attached to capture the images.
Matthew Dickinson, system administrator and instructor with the IT Program, constructs and maintains the radio-controlled drones and gives the students flight training.
Funding for the project comes from the MU Interdisciplinary Innovations Fund, Carnegie Corporation of New York, CAFNR Science and Agricultural Journalism Program and Mizzou Advantage.
Updated: July 13, 2020
Related Stories
Expand All
Collapse All
---