Mark Swanson Unites Gamers for a Children's Miracle Network Fundraiser
Columbia, Mo. (Dec. 20, 2018) — A Missouri School of Journalism faculty member exemplified the idea of using your talents for good by using his self-invented board game to raise money for children in need.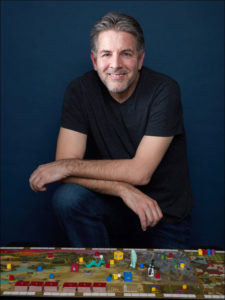 Mark Swanson, associate professor in strategic communication, is also the creator of the board game Feudum. This year, he was asked to bring the game to an event called "Extra Life" – a 24-hour fundraising and gaming marathon for Children's Miracle Network Hospitals.
The organizer of the event, Tony Guess, asked Swanson to bring Feudum to the event in order to boost interest and attendance. Swanson happily agreed and brought his creation to Game Nite, a game store in St. Louis. This is just one of the many locations across the U.S. and Canada where Extra Life takes place.
The St. Louis location raised $2,420 for St. Louis Children's Hospital.
"It was fun and exciting to be part of this world-wide event," Swanson said. "Fans have been so supportive of my game Feudum, so it just felt right to give back to the community."
The gamer describes Feudum as a deeply-nuanced strategy game that rewards resource management and skillful planning. It embodies a medieval setting where members play their role in an economic system.
Another game-related charity that is meaningful to Swanson is the Jack Vasel Memorial Fund, which provides aid to members of the gaming community who have suffered personal hardship.
Swanson encourages all creatives desiring to use their talent for good to find a cause that they're passionate about.
"It just makes giving all the more rewarding," he says.
Updated: November 6, 2020
Related Stories
Expand All
Collapse All
---