Missouri School of Journalism to host pair of international journalists for Smith/Patterson science journalism lecture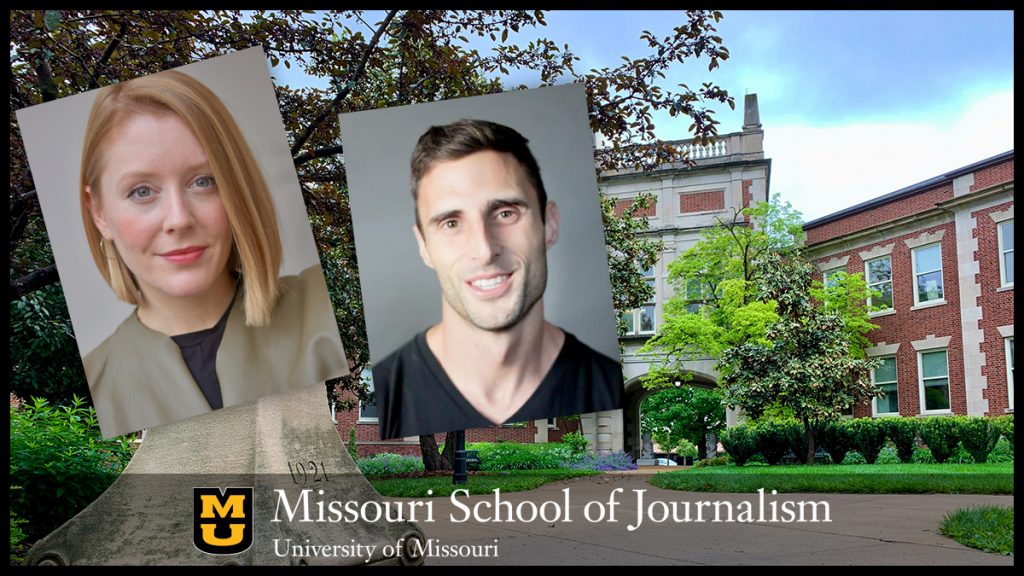 Harriet Constable and Jacob Kushner will talk about their work investigating potential causes of the next pandemic.
Columbia, Mo. (Sept. 13, 2021) — The Missouri School of Journalism is hosting two renowned journalists for a talk about their latest project, a globe-trotting investigation for the BBC into six viruses that could cause the next pandemic. Harriet Constable and Jacob Kushner will talk to students and faculty at 6 p.m. Wednesday, Sept. 29 at Smith Forum (200 RJI). The event, this semester's Smith/Patterson Science Journalism Lecture, can be attended in person or via livestream on the School of Journalism's Facebook page.
"COVID-19 has reminded us that science deeply affects us all, and it's important that we know how to cover this kind of global issue in our interconnected world," said Associate Professor Sara Shipley Hiles, director of the Smith/Patterson Science Journalism Lecture and Fellowship program. "This is a chance to get behind the scenes with these journalists and see their work in action."
Both Kushner and Constable have extensive experience reporting internationally on science, the environment, politics, and global health. Constable is a journalist, news producer and filmmaker based in London who has reported from Kenya and South Africa. In addition to the BBC, her work has been featured in a number of top publications, including the New York Times, the Guardian, National Public Radio, and the Economist.
Kushner is an international correspondent who has reported from Germany, the Caribbean, and the continent of Africa. Like Constable, his work has been featured widely, including in the New York Times, the Atlantic, the Guardian, and National Geographic.
The well-traveled resumes of Kushner and Constable came in handy for their six-part BBC series, a multimedia project that features film segments and in-depth articles that investigate when and where the next pandemic might originate. As the world continues to deal with COVID-19, the stories cover several potential sources of a future pandemic: a bat-borne virus in Asia, a super-spreader mosquito that has crossed from India to North America, African camels carrying Middle East Respiratory Syndrome (MERS), swine flu in Europe, monkeys with yellow fever in South America, and possums carrying flesh-eating bacteria in Australia.
"I hope the audience comes away seeing that there's a great deal we can all be doing – on a personal, local and global scale, to put ourselves in a safer position for the future," Constable said.
Kushner agreed, highlighting the urgency of the problem amid a pandemic that has been ongoing for well over two years.
"The time to stop the next pandemic is now," Kushner said. "As journalists, it's our job to lead the way toward a solution by highlighting the public policies governments can enact to enable scientists to discover future, pandemic-possible diseases — before it's too late."
The Smith/Patterson Science Journalism Fellowship and Lecture Series was established in 2008 by School of Journalism alumnus Russell G. Smith II and his wife, Gail, to honor Joye Patterson, Smith's former professor and mentor. The program is also part of a partnership with the Pulitzer Center established in 2017 to enhance the School's emphasis on science, health and environmental journalism.
"Harriet and Jacob's multimedia project on animal-borne diseases for BBC Future is explanatory and science reporting at its best," said Marina Walker Guevara, executive editor at the Pulitzer Center and an alumna of the School of Journalism. "At a time of so much collective anxiety and pain during the pandemic, we thought this project — which focuses on amazing, dedicated scientists working tirelessly to stop the next pandemic — would bring not only awareness but also a measure of hope."
Updated: September 13, 2021
Related Stories
Expand All
Collapse All
---