Vector Marketing Honors Student with $1,000 Gift to Advertising Department
Columbia, Mo. (April 6, 2004) — Vector Marketing honored Ashley Lewis today with a $1,000 donation to the Advertising Department at the Missouri School of Journalism. Margaret Duffy, department chair, accepted the gift.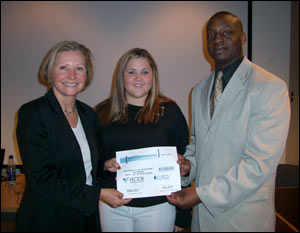 "We congratulate Ashley on this outstanding achievement," said Duffy. "We appreciate the generosity and commitment of Vector Marketing providing our students with opportunities to develop the skills and capabilities they'll need to compete in today's work environment."Lewis, of Decatur, Ill., was named a Regional Collegiate Champion for finishing among the top five national sales representatives for the company's Summer 2003 Campaign. Champions also must be registered as a full-time student at an accredited college or university.
Vector representative Devin West made the presentation.
"Vector Marketing provides students with more than just part-time work experience," said West. "We offer the chance to earn significant income, to develop useful business skills as well as the possibility of a full-time career following graduation."
Vector is the exclusive marketer of Cutco Cutlery which produces a wide range of cutlery, kitchen utensils, garden tools and sporting knives.
Updated: March 16, 2020
Related Stories
Expand All
Collapse All
---