Missouri Journalism Professors Teach Importance of Free Press to Girls State Participants
Statewide Program Introduces High School Girls to American Political Processes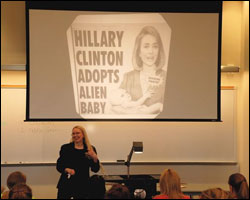 Columbia, Mo. (July 16, 2007) — For the third year in a row, professors at the Missouri School of Journalism conducted the media and communications class at Missouri Girls State, a project of the American Legion Auxiliary that brings together more than 700 high-caliber high school students to study American democracy each summer.
This year's faculty included Sandy Davidson, associate professor of journalism studies; Elizabeth Brixey, assistant professor of newspaper journalism; Michael Grinfeld, associate professor of magazine journalism; and Traci Angel, a master's student and former Knight Fellow at the Columbia Missourian, the School's student-staffed, faculty-led daily city newspaper. By coincidence, all four had participated in the Girls' or Boys' State program during their high school years.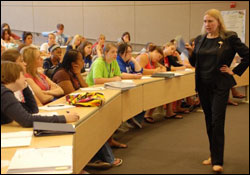 "This is a unique opportunity for us to talk about how important a free press is in a deliberative democracy like ours," said Grinfeld, who organizes the class each year. "These are wonderful young people who are eager to learn about the media and their impact on our culture and world events, and it's a joy to teach them."
Approximately 100 girls took the class, many of whom will consider attending the Missouri School of Journalism once they leave high school.
The girls spent the last week of June at the University of Central Missouri at Warrensburg learning about local and state government by participating in role plays in which they organize political parties, run for office, engage in law enforcement activities and run the courts. The journalism program is one of five classes that the participants can select, and they receive college credit upon completion.

---
Updated: April 17, 2020
Related Stories
Expand All
Collapse All
---