Volunteering Provides J-School Students with Fun, Hands-On Experience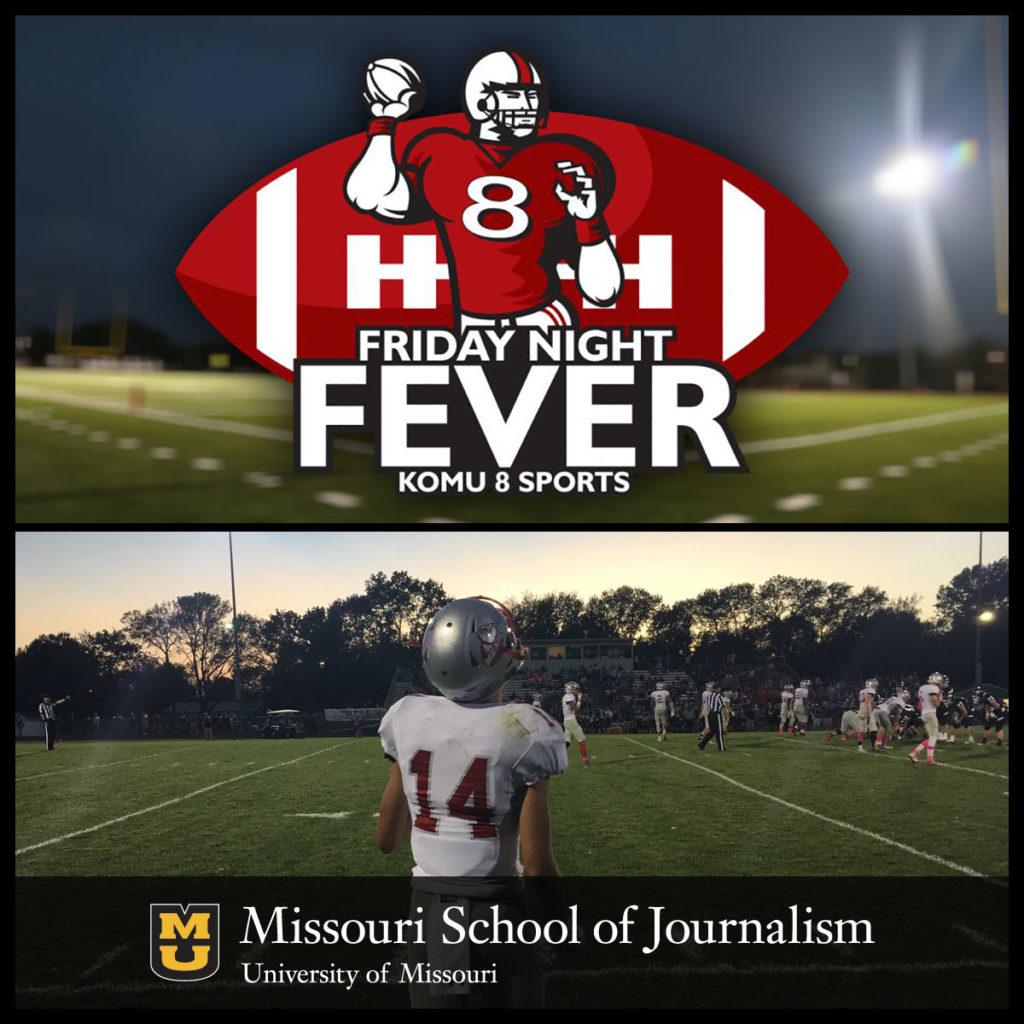 Working on KOMU's 'Friday Night Fever' Offers a Primer on the Missouri Method
By Yue Tang
Columbia, Mo. (Oct. 27, 2017) — In nearly any other mid-size market, local news stations would be hard-pressed to cover more than 40 local and regional high school football games each week. At the University of Missouri, journalism students gain valuable experience as they help provide this level of coverage every fall by volunteering for KOMU's Friday Night Fever, a weekly multi-media program covering the local high school football season.
Friday Night Fever started more than 30 years ago and represents one of the most far-reaching local TV station football coverage efforts in Missouri. Whereas most other television stations typically have a handful of people on staff to film games, Friday Night Fever offers the entire student body a chance to get in on the action. Any student can volunteer at KOMU; younger students are paired with upperclassmen and assigned to cover a high school football game in the mid-Missouri viewing area. With an average of 25 volunteers, ranging from freshmen to seniors, KOMU is able to cover approximately 15 games a week through filming, tweeting and Snapchatting.
Matthew Vereen, from Greenville, S.C., is a senior studying sports radio broadcasting. He has been participating in Friday Night Fever since his sophomore year. "The Missouri Method is a very real and valuable tactic that allows student like me to get actual work experience in my future career field," Vereen said. "KOMU is one of the pinnacle examples of this at Missouri."
Friday Night Fever operates with teams of two or three students per game, with one operating as a team leader (filming the game) while the others provide digital coverage. Tweets and score updates are posted to KOMU-TV's website to give its audience a "one-stop shop" for football updates as they happen live across mid-Missouri.
Experienced Friday Night Fever volunteers move into leadership roles as juniors and seniors. For most, this means leading the team; others will run the website or produce the show. Producers designate how much time each game has for highlights, when their game will air, then approve those game highlights to air on TV. During the actual show, team leaders go to the control room to assist the director as the show airs.
Vereen started at KOMU as a production assistant, cutting video for the news shows. From there, he has worked as a digital producer, desk assistant, reporter, anchor and show producer…essentially every role available at the station. "When many schools talk about hands-on experience, it's just that…talk. With the Missouri School of Journalism, it's far more," Vereen said.
In his three years working at the station, Vereen has been given invaluable experiences to work in real-life roles at an NBC affiliate station. "It's an opportunity not widely available to college students, which has prepared me for my desired career as a sports anchor and reporter."
KOMU-TV 8 is the only university-owned commercial television station and major network affiliate in the United States that serves both an academic and commercial mission. Recognized throughout the journalism profession as the premiere training ground for television reporters and producers, KOMU's newsroom creates a real-life lab experience for students attending the Missouri School of Journalism.
Updated: October 26, 2020
Related Stories
Expand All
Collapse All
---