The Missouri Method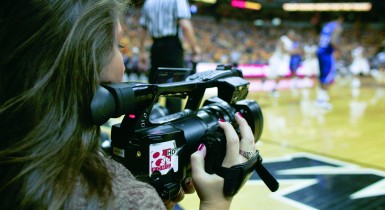 The Missouri Method
Missouri Media and Practical Experiences
At Missouri, real-world media experience is part of the curriculum.
The first school of its type in the world, the Missouri School of Journalism educates students for careers in journalism, advertising and other media fields by combining a strong liberal arts education with unique hands-on training in professional media.
AdZou is the capstone class for strategic communication seniors. Students work in teams to create a complete research-based campaign for a real company or organization under the direction of advertising, public relations and marketing professionals. National, regional and local clients benefit from the students' fresh perspectives and insights into how to integrate new and traditional media.
The Missourian is a Web-first publication that was founded in 1908 as a community newspaper. It regularly beats out the St. Louis Post-Dispatch, Kansas City Star and Columbia Tribune for state journalism awards. Many of its alumni now write for leading newspapers, magazines and websites. Others are working as photographers, designers, graphic artists, copy editors, Web developers, etc. As journalism has changed, so has the Missourian. Although its print edition publishes five days a week, the Missourian family of publications is a 24/7 operation. The new digital tools of our age allow students to work with a completely new model. Digital is the language of the present, and the Missourian's mission is to prepare tomorrow's leaders in journalism. Its family of publications includes:
ColumbiaMissourian.com is a news site that's updated constantly and includes video, audio and other multimedia as well as reader-friendly interactive data. Stories written by student reporters are published first online. Students write blog posts on any of eight sites featuring everything from City Council tidbits to Tigers football news.
MyMissourian.com was the second citizen journalism website in the country. It's a place where readers become the writers while our student-journalists serve as editors and guides. In addition to its online version, the best of MyMissourian is published in the daily print edition of the Missourian. It is a unique collaboration between traditional print and digital platforms.
Missourian Neighborhood News is the hyperlocal arm of the Missourian. It publishes 12 push e-mail newsletters every three or four weeks and a daily blog site. Neighborhood News is plugged in to schools, churches and neighborhood associations. Student reporters develop story ideas, gather e-mail addresses and "walk the beat," getting to know residents in a more personal way.
The magazine for the international news business, Global Journalist is published by the School of Journalism. The magazine's audience is journalists around the world, and its mission is to report on the state of press freedom worldwide, to cover developments in international journalism and to serve international journalists.
KBIA-FM is owned by the University of Missouri and is one of the most successful public radio stations in the nation. Radio-television and convergence journalism students cover events, write stories and air newscasts on KBIA. Students work under the direction of faculty members who are professional broadcasters. KBIA is an NPR-member station and carries programming from Public Radio International and other providers.
KOMU is the only university-owned commercial television station in the United States that uses its newsroom as a working lab for students. Recognized throughout the journalism profession as the premiere training ground for television reporters and producers, KOMU's newsroom creates a real-life lab experience for students attending the Missouri School of Journalism. While KOMU strives to bring the best education to its students, the news station also works to bring Mid-Missouri the best news coverage and has received numerous awards for its on-air news coverage. Journalism students working at KOMU use state-of-the-art equipment, a new all-digital control room and multiple live-remote trucks. KOMU has restructured its internet presence with video stream of local news stories. KOMU is affiliated with both NBC and CNN.
Missouri Digital News is the school's first converged newsroom. Newspaper, broadcast and new media students work together covering state government and political issues from MDN's statehouse office. In addition to MDN's online service to the public (http://www.mdn.org), MDN distributes stories to a variety of newspaper and broadcast outlets across the state. The Missouri Press Association, Missouri Broadcasters Association, KMOX Radio and KSMU Radio provide support for MDN's services.
MOJO Ad is the premier student-staffed professional-services advertising agency in the country. The lab offers real-life work experience to students attending the Missouri School of Journalism. With our specialization in all things young, MOJO Ad works with local, regional and national clients whose brands target teens and young adults.
Vox blends Columbia's urban mentality and hometown familiarity into a smart, small-city tabloid. The magazine profiles the human condition, exposes local culture and provides reviews, tips and trends that tell readers what's happening and where to be. With an ear to the underground and an eye out for the unique, Vox brings mid-Missourians an analysis and reflection of contemporary issues with useful and provocative articles. The magazine is distributed in the Thursday edition of the Columbia Missourian and can be picked up at drop locations around town and on all three college campuses. Its total circulation is 15,000. Vox has been recognized by the Association for Education in Journalism and Mass Communication as an award winner in its student magazine contest for the past several years in the areas of general excellence, investigation and analysis, profile writing and design.