Rodgers Named Director of Research for Health Communication Research Center
Columbia, Mo. (May 9, 2011) — Shelly Rodgers, an associate professor of strategic communication in the Missouri School of Journalism, has been named the director of research for the Health Communication Research Center (HCRC). Rodgers, who will begin in this role this summer, will guide the research efforts for the Center's grant and contract projects.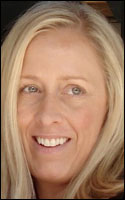 This new role dovetails with her continuing work as an associate professor as she guides the research path of the HCRC as well as working with and mentoring the School's graduate students.
HCRC Director Glen Cameron, who previously handled most of these duties, now will focus on seeking funding for the Center as well as building national and international partnerships.
"This is the next logical step for the HCRC," Cameron said. "Shelly has been doing a lot of this type of work in the last year working with our doctoral students and assisting with HCRC data. This formalization of the arrangement will allow me to drum up new business in an increasingly competitive economic climate to continue growth of the Center."
Along with working with existing HCRC research streams on topics such as health literacy and telehealth, Rodgers will look to expand the HCRC's scope to include work in social media and digital health communication and advertising.
"I'm excited to formalize this role with the HCRC," said Rodgers. "I've been involved with the Center since the beginning and have watched it grow to this point. I think this is a great opportunity to continue Glen's work with the research part of the Center and his work with the PhD students."
Rodgers' past research has examined the effects of interactive communications on audience processing, with an emphasis on how to use the Internet to promote healthy behaviors. She has worked in the areas of cancer communication, smoking cessation/prevention, tobacco control and other health areas. Rodgers' research on interactive advertising has been published in leading journals, including the Journal of Advertising, Journal of Communication, Journal of Advertising Research, Journal of Interactive Advertising, Marketing Research, Social Marketing Research and Journal of Health Communication.
Rodgers is nationally ranked as one of the most productive Internet advertising scholars and is among the top 10 most cited Internet advertising researchers. She served as president of the American Academy of Advertising in 2010 and is the co-author with Esther Thorson, associate dean of graduate studies, of a forthcoming textbook on advertising theory, due to be published in 2012.
About HCRC: The Health Communication Research Center is a grant-funded center based in the journalism school. Its primary mission is to foster interdisciplinary research to improve communication between the health care and science community and the public. The center capitalizes on the University of Missouri's strengths in health care and science outreach, education and prevention.
Updated: May 29, 2020
Related Stories
Expand All
Collapse All
---