Visit the School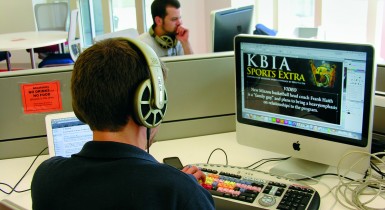 Visit the School
If you are thinking about applying to the Missouri School of Journalism, we encourage you to visit. You will gain a feel for what makes Missouri unique, from the hands-on training provided in professional community-based newsrooms and strategic communication agencies to the multitude of academic options that can be tailored to fit your needs. You also can explore the exceptional and beautiful MU campus, also known as the Mizzou Botanic Garden. Since its inception, the garden has become a living museum of thousands of plants displayed amongst famous icons, such as Jefferson's original grave marker and the columns of Academic Hall.
School Tours
You can observe newsroom activity, see classes in session and gain a better understanding of Missouri's collaborative learning environment while you tour some of the eight buildings dedicated to journalism on the MU campus. There is a 25-minute presentation about the school followed by a tour guided by Journalism Ambassadors.
Daily Tour of the School
Daily Tour of KOMU-TV
What: A guided tour of this NBC affiliate takes place from 4:30-5 p.m., and you can stay for the 5-5:30 p.m. newscast.
When: 4:30-5:30 p.m. on Mondays, Thursdays, and Fridays.
Register: Register with the MU Office of Admissions. Visit the schedule a visit page for complete details.
NOTE: Guided tours of the school and KOMU are not always available during semester breaks, spring break or summer sessions. Consult the MU Academic Calendar for those dates.
Graduate Studies Center
Informational sessions and tours of the school are arranged for prospective master's and doctoral students on an individual basis. Please contact the appropriate person below to make arrangements for your visit.
On-Campus Master's and Doctoral Students
Graduate Studies Office

Email:
Phone: 573-882-4852
University of Missouri
Resources about how to make the most of your visit to campus are available on the following websites.
General School Contact Information
Phone: 573-882-1908
Fax: 573-884-5400
Email: