National Journalism and Communication Association honors Missouri School of Journalism with Diversity Award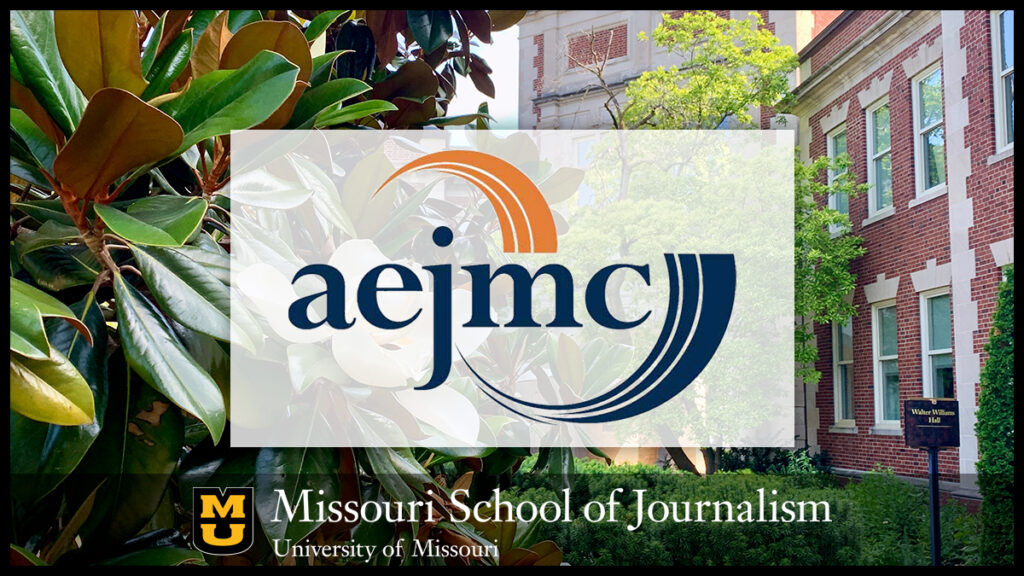 The annual award recognizes journalism and mass communication programs that are successfully achieving equity and diversity goals.
Columbia, Mo. (July 2, 2021) – The Missouri School of Journalism is the recipient of the Equity & Diversity Award by the Association for Education in Journalism and Mass Communication (AEJMC). This national award is one of the highest honors in diversity and inclusion.
The annual award recognizes journalism and mass communication programs that are successfully achieving equity and diversity goals. Programs must display progress and innovation in racial, gender and ethnic equality and diversity over the previous three-year period.
"The Missouri School of Journalism strives to be a place where all people feel valued, where their talents can be developed, where personal and professional growth is nurtured. A place where all have an opportunity to be heard and respected," said Dean David Kurpius. "I am thrilled our efforts are being recognized by AEJMC."
Judges noted the School's sustained commitment, efforts, and investment in diversity and inclusion activities. Among the judges' comments:
"Mizzou has really worked hard to try to change the tide that has existed there in terms of people's perspectives."
"They look like they are invested."
"The School has been intentional and forward-thinking in trying to bring forward those persons who represent where they are trying to go in its efforts to diversify. We found the School's progress in hiring diverse faculty and its specific initiatives in programming and mentorship particularly impressive."
Renewed Commitment
In 2016, the School's faculty and staff recommitted to the importance of developing a more diverse and inclusive culture. Goals included hiring and retaining more diverse faculty, diversifying and establishing an inclusive curriculum, and providing mentoring opportunities for historically underserved students.
To help support these efforts, MU's Division of Inclusion, Diversity & Equity has partnered with the School to help strengthen its IDE efforts in a competitive hiring marketplace. Campus leadership provided permanent funding for one-time new faculty lines as well as additional incentives such as spousal accommodations to attract diverse minority candidates. These resources allowed the School to accelerate its plans for diversity and inclusion.
Through intentional recruitment and hiring, the School increased its percentage of faculty members of color from approximately 11% of faculty in 2015 to 23% today. Representation of African American faculty members increased from less than 3% to nearly 9% of all faculty. To change culture, hiring committees within the School routinely request diversity statements from candidates to ensure that prospective faculty understand the School's commitment to diversity, inclusion and equity.
Faculty committee work
For the past three years, the School's Diversity and Inclusion Committee, chaired by Associate Professor Cristina Mislán, regularly review the School's diversity and inclusion strategic plan to address ever evolving understanding around inclusion, diversity and equity in higher education and the workplace.  To ensure the School is making progress toward its IDE goals, the Committee solicits input from faculty, student leaders and staff on an annual basis. This feedback keeps the plan fresh and relevant.
"It's important to be recognized for our efforts in making the school more inclusive, diverse and equitable," said Mislán. "We have a long road ahead, but as a community we are committed to engendering an institution that trains responsible scholars and journalists, one that will enhance journalism and mass communication education."
Road to sustained efforts
Through faculty fellowships to guest lectures and inclusive practices, a component of the School's award-winning efforts is providing professional development opportunities and instructional support.
Mislán and Associate Professor Jeimmie Nevalga work with faculty, staff and students to build an inclusive environment through support from a faculty fellowship. Together, the two have brought guests from the university and industry to visit and workshop with faculty on best practices for creating inclusive, equitable and diverse syllabi and pedagogical practices. These speakers have included sports commentator and journalist Jemele Hill and The New Yorker writer-Columbia University professor Jelani Cobb.
The Journalism School established a Community of Practice, comprised of faculty, who work together to develop and enhance pedagogical practices designed to create a holistic inclusive learning environment for students, faculty and staff. The school has committed resources to prioritizing IDE and ensuring that the values of diversity, inclusivity and equity are infused throughout the curriculum.
Embedded in the curriculum
In the classroom, diversity and inclusion are part of the core of what students learn. All journalism students are required to take a Cross-Cultural journalism course to provide context and tools for students as they report, edit and generally communicate in a complex, diverse and changing society.
In the School's hands-on, real world newsrooms and agencies, information about the race of an alleged criminal, a person's age, membership in certain groups, photo depictions and the like all provide teaching opportunities about not discriminating when reporting or developing campaigns.
Alumni/student connections
The School's desire to advance a culture of welcome, respect and acceptance is one that is embraced by alumni, as well as the news and communication industry. Their involvement as speakers, mentors, recruiters, supporters and more benefits future leaders and the profession at large.
In 2019, Associate Professor Ron Kelley launched a pilot mentoring program for junior and senior minority students who are matched with minority journalism and strategic communication alumni. The goal of this program is to provide guidance's to students for retention and professional development. The mentorship will continue after graduation to help students make the transition from college to their professional careers. As Kelley noted, the first years of a new career can be daunting, and the mentors help navigate any potential challenges faced.
"The participation from alumni of color has been great and we are thankful for their willingness to give back," said Kelley. "Many of them have said they wished they had a program like this when they were in school."
There is also strong support – both financial and mentoring – for various student identity-based organizations, including the National Association of Black Journalists (NABJ), the National Association of Hispanic Journalists (NAHJ), the Asian American Journalists Association (AAJA), Women in Media, and the Association for Women in Sports Media (AWSM). These organizations provide students with various opportunities and resources that will help propel their careers forward.
"The Missouri School of Journalism is committed to creating a more diverse, inclusive and equitable culture, one that enriches the lives of our faculty, staff, students and our communities," said Kurpius. "Such transformation is a never-ending process, but it's a challenge we welcome each day with a fresh commitment."
About AEJMC
AEJMC is a nonprofit, educational association of journalism and mass communication faculty, administrators, students and media professionals across the globe. Dedicated to promoting the highest standards for education, the Association provides an abundance of resources for news, research and career opportunities, including a multicultural network of practitioners from every discipline of journalism and mass communication.
Updated: July 2, 2021
Related Stories
Expand All
Collapse All
---