Missouri-Hurley Symposium Offers Insights into Diversity, First Amendment
Accountable Leadership, Relationship Building Are Keys to Increasing Minorities on MU Campus and the Industry
By Andrew Kreighbaum and Karol Ilagan
Washington (March 28, 2016) — During last fall's protests over racial issues at the University of Missouri, Morgan Young found herself in a predicament. As a black woman, she understood the students' concerns. Young could be an advocate and join the protests. But she also had a duty to cover the events as a news reporter for KOMU-TV, mid-Missouri's NBC affiliate.
It was hard, Morgan said. She knew many people who were part of the movement. Morgan herself had been called a racial slur on campus and did not get the support she needed at the time.
Young chose to serve her community as a journalist, and it has been, she said, "the thing I'm most proud of" since coming to MU: "The best service I can do for my community is to tell the truth."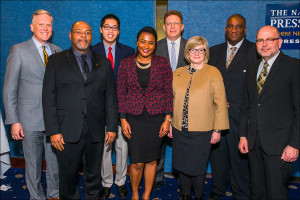 Young's account offers insight into how some students at the world's first journalism school balanced their roles during protests of racial inequality that brought global attention to the Missouri campus last fall. The MU senior joined a panel of journalism professors, students and industry professionals at the 2016 Missouri-Hurley Symposium on March 17 at the National Press Club in Washington to examine events that set off deeper debate on diversity and First Amendment freedoms.
David Kurpius, dean of the Missouri School of Journalism, introduced the session with a review of how the School had responded and a look at plans to enlarge on the School's diversity efforts.
In addition to Kurpius and Morgan, the panel of speakers from the Missouri School of Journalism included Earnest Perry, associate professor; Stacey Woelfel, director, Jonathan B. Murray Center for Documentary Journalism; and Tim Tai, student and photographer. Jeffrey Herbst, president and CEO, The Newseum; and Bryan Monroe, Verizon chair and professor, Temple University School of Media and Communication; also participated.
Titled "Lessons from Missouri: Diversity, Inclusion and the First Amendment," the symposium was moderated by Barbara Cochran, the Curtis B. Hurley Chair in Public Affairs Reporting and Washington Program director.
Cochran said the recent events at MU – from the homecoming protest, Jonathan Butler's hunger strike and the football team's strike to the resignation of University of Missouri System president and the MU chancellor and the firing of a communication professor – reflect issues that are also being tackled in other universities and society as a whole. Missouri, she said, has become a microcosm of the stresses being experienced across the country.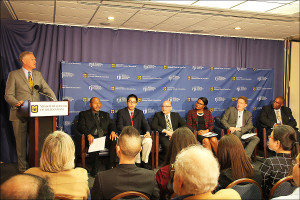 A verbal confrontation captured on video between Tai and protest supporters who sought to block him from covering the events on the Carnahan Quadrangle in November was seen around the country. Tai said he was taken aback by the viral attention the video received. He drew praise from other panelists and members of the audience for the professionalism he displayed in the incident.
Woelfel, who was also at the scene when the confrontation occurred, saw competing interests at play. Supporters of the movement, he said, had the right to be part of the protest, while journalists also had the right to cover the demonstration.
"Neither right superseded the other one with no one in authority to get one side to yield to the other," he said.
The day following the incident, Woelfel said he and Assistant Professor Brett Johnson, who teaches communications law, identified key First Amendment issues highlighted by the incident. The guide was published on the School of Journalism's website and provided discussion points for classroom discussions.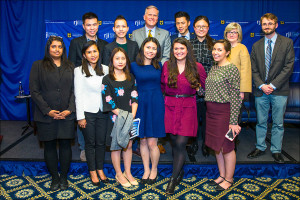 For Herbst of the Newseum, the confrontation between journalists and protesters at MU in November did not represent a clash of First Amendment rights.
"No one was denying that the students have the right to peacefully assemble on the quad," he said. "Rather, some people were trying to deny the rights of the press to cover it."
Herbst, likewise, raised concerns over similar events happening at what he called "Internet speed." Social media in many cases, he said, has completely overtaken journalism, accelerating both news cycle and expected response times.
"People want to know not only what is happening, but constituencies – on your campus, students, faculty, staff and off-campus, alumni, parents – want to know instantly how you're going to respond," he said.
Herbst, who also served as president of Colgate University from 2010-15, observes a shift in attitudes about First Amendment issues among young people. With Twitter, Facebook and YouTube, students, he said, no longer need traditional journalistic venues to get their word out.
"So-called 'millennials' have a different attitude, and one which puts less respect on freedom of the press than older generations," he said.
While the panel discussion reflected on the events on campus last fall, audience members, including School of Journalism alumni, asked Kurpius how the program would improve diversity on campus and in the industry.
Kurpius said that effort starts with building relationships in high schools attended by talented minority students and carries over to building connections with Missouri alumni who can mentor and guide those students.
"This is not rocket science. You go to where great students of color are," he said. "Then, you make it possible for them to come."
Kurpius said it's important to help students and their parents realize that there's both a career path to success and another where they can bring a missing voice to journalism.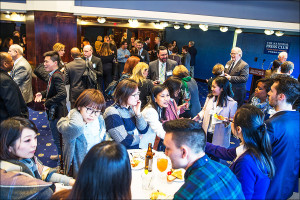 Kurpius, a former associate vice chancellor at Louisiana State University, said he plans to visit New Orleans to work on building a pipeline of students to Missouri. But he said he needed the help of alumni to bring more talented minority students to the campus. Missouri is currently completing an update to its diversity strategic plan driven by faculty and students on campus.
The School expects that the number of entering students of minority students on campus will be down next year partly as a result of the protests or concerns over the environment they highlighted. However, Kurpius said the School of Journalism is taking the necessary steps now to make sure that that number continues to increase in the future.
Monroe of Temple University's School of Media and Communication said accountable leadership is key to make the needle move. He said tackling issues on diversity usually doesn't work if it's one in a long list of things that need to be done.
"It has to be an active priority at the leadership," he said.
Perry, who will become associate dean for graduate studies at the School on July 1, is the only African-American male to receive a doctorate from the journalism program. He said the School is working to change the environment for minority students through measures including an undergraduate mentoring program with the National Association of Black Journalists and a cross-cultural journalism course required for all journalism majors.
"It's going to take time to build, and alumni can be very helpful in that regard," he said. "If you know people who are in the business, who are interested in getting a graduate degree, be it a master's or a PhD, send them our way."
The program's cross-cultural journalism class is one of the first and few courses required for all journalism students. Perry said the class is hinged on the principle that students need to understand that they are telling stories about people and their own lived experience.
Young, a senior who has already taken the cross-cultural journalism class, said the course prepared her to tell stories she's not familiar with.
"That class allowed me to understand where the other side is coming from," she said. "That course taught me how to cover all kinds of people – whether they look like me or not."
Updated: September 22, 2020
Related Stories
Expand All
Collapse All
---